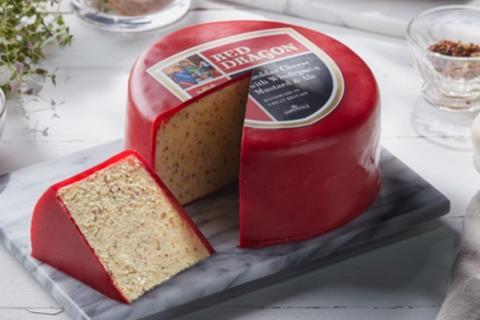 West Country-based dairy exporter Somerdale International is to boost its international portfolio of cheeses after acquiring the blended cheese business of Welsh wholesaler Abergavenny Fine Foods.
The deal, for an undisclosed sum, follows a decision by AFF to end production of the cheeses last October, in order to focus on developing the company's export business and its added-value proposition.
That move meant production of AFF cheeses including its Y-Fenni, Tintern, Harlech and St Illtyd variants – which had been previously produced in partnership with Somerdale – was due to end on 31 December. However, the brands have now been given a reprieve following the Somerdale acquisition.
The sale includes the transfer to Somerdale of AFF's blended cheese processing assets, along with the above brands and associated trademarks, which would allow the exporter to "give greater focus to these brands, with exciting plans already in the pipeline to grow their sales through new product development, packaging and marketing activity", it said.
As a result, Somerdale will transfer the production of blended cheese to its other cheesemaking partners, including Cheshire-based Joseph Heler, which already produces much of the cheese in Somerdale's Westminster and Cooper's Hill ranges.
The acquisition would "strengthen our position as the leading exporter of British blended cheeses and, working closely with our award-winning cheesemakers, will enable us to give greater focus to the development of brands such as Red Dragon, which is already one of our largest selling brands in the US market", said Somerdale director Alan Jenkins.
"Across both established international markets such as North America and Australia, and new emerging markets such as China, sales of our branded blended cheeses are growing strongly," he added.
"Key to this is our ability to offer innovative and great-tasting flavour combinations; create tailored and seasonal blended cheeses that can provide real excitement and a point of difference to a cheese fixture; and respond to the growing consumer demand for demonstrable quality, provenance and the ever-more important use of clean ingredients and labelling."
It comes as Somerdale reported a 9% increase in turnover to £41.9m for the year ending 31 March 2020 in its annual results, published last month. Pre-tax prodits rose by 230% to £634,532, while US sales grew by 32% to $25m.