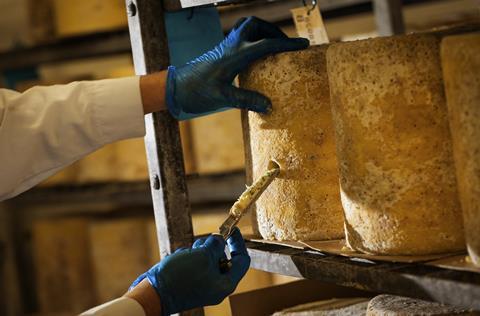 The loss in sales meant some stilton producers were under threat of going out of business

The Stilton Cheese Makers' Association is calling for shoppers to buy British cheeses instead of Continental equivalents
Sales of stilton have fallen by as much as 30% as a result of the coronavirus-driven collapse of the foodservice, hospitality and export markets, producers of the cheese have warned.
The six Midlands-based producers permitted to manufacture the cheese under European Protected Designation of Origin rules had lost between 20% and 30% in year-on-year sales since the start of the coronavirus crisis, warned the Stilton Cheese Makers' Association.
This loss in sales meant some producers were under threat of going out of business, it added, as it called for shoppers to support the sector by buying stilton and other British cheeses instead of Continental equivalents.
Cheesemakers were having to reduce the amount of stilton they were making while also trying to process all of the milk from the 70 farmers in Leicestershire, Nottinghamshire and Derbyshire supplying them – in order to avoid wasting it, said the SCMA.
The current crisis also threatened to "discourage the next generation of cheesemakers", it warned.
The trade body was exploring alternative distribution channels such as mail order to get more stilton to customers, while stressing the major supermarkets already listed the cheese.
But in a bid to increase sales and try to make up the shortfall created by the coronavirus crisis, the SCMA was also keen to remind shoppers the cheese was "as versatile as any blue cheese from France or Italy".
"Like many British food producers, stilton sales have been affected by the Covid-19 pandemic," said Robin Skailes, chairman of the SCMA and director of Cropwell Bishop Creamery.
"We hope the British public will support us by buying stilton instead of imported blue cheeses which, in turn, will support British dairy farmers."
The SCMA's warnings follow concerns the coronavirus crisis has had a negative impact on the wider specialty cheese sector.
Many had lost up to 90% of their business overnight, warned the Specialist Cheesemakers Association last month. The situation has been compounded by shoppers using supermarkets to stock up on hard and grating cheeses made by large food manufacturers.
"The future of Britain's farmhouse and specialist cheesemakers is in the balance – we could see many of the country's best cheeses lost for ever as family farms and small cheesemaking businesses are pushed to the wall," warned cheesemaker and SCA chair Catherine Mead.