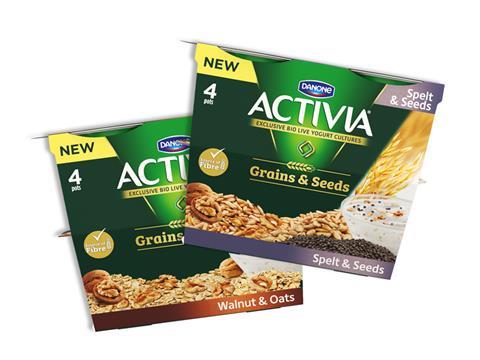 Danone has moved to boost the fortunes of its struggling Activia yoghurt brand with the launch of four new variants containing grains, seeds and nuts.

Activia Grains & Seeds rolls out nationally from 28 August. It consists of Activia yoghurt mixed with four flavour combinations: Walnut & Oats, Spelt & Seeds, Quinoa & Seeds 0.7% Fat and Muesli & Fruit 0% (rsp: £2.50 per 4x120g).

The range, which is already available in other markets such as Germany, Spain and France, represented Activia's first use of quinoa, spelt, poppy seeds, sunflowers seeds and walnuts, Danone said, and would capitalise on a growing demand from consumers for breakfast options containing grains.

"We know that breakfast is the occasion where consumption of yoghurt is increasing most rapidly," said Activia senior brand manager Ceyda Tort Turgay. "We also know that adding grains to food is a big consumer trend at the moment. Our new range gives retailers the opportunity to tap into both trends, offering a real opportunity to bring incremental growth to the chilled yoghurts and pot desserts category."

The launch comes on the back of a torrid year for the Activia brand.

UK value sales fell by 14.4% to £163.8m during the 12 months to 30 January 2016 [IRI]. And a global revamp of the brand last autumn - which saw packaging refreshed and the launch of a multimillion-pound marketing push using the tagline 'Live InSync' - failed to stop the rot, with sales falling a further 11% for the year to 28 January 2017 to £145.8m.

The new range's £2.1m media push, which starts in September, will not use the 'Live InSync' tagline, Turgay confirmed. "Activia's brand relaunch last year didn't deliver the brand turnaround as fast as we expected," she added.
"We took our customers' and consumers' feedback on board, bringing two new products to the market this year that tap into current trends. The first one was Activia 0% Fat with No Added Sugar; the second one is Activia Grains & Seeds. In addition, we are working to evolve our communications based on the learnings from last year's relaunch."