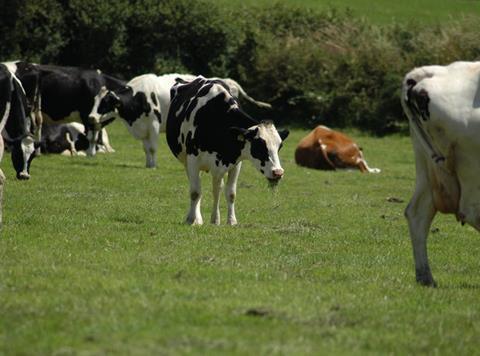 Tesco is to continue paying above the cost of production to members of its Sustainable Dairy Group, but will only guarantee payments for three months at a time from February 2016.
The retailer's commercial director for fresh food Matt Simister, confirmed on Wednesday (4 November) that the 600-strong group did have a long-term future after concluding its first ever review – launched in July against a backdrop of the most volatile period for the dairy industry since 2012.
In a statement, Tesco said the outcome of the review had "cemented the TSDG's position as an integral part of how Tesco partners with British agriculture and serves its customers", and confirmed it was looking to increase the size of the group by around a quarter and look "to foster and mentor fresh talent, by creating a new platform for new and young farmers wishing to enter the dairy industry" through a new reserve pool of farmers.
But the price paid to members of the group will now be determined on a quarterly basis in order to "better reflect actual on-farm costs such as feed, fertiliser and fuel", Simister said, and in a letter to members outlining its new conditions he added they would also be judged against a "scorecard", measuring factors such as animal welfare standards, milk quality and environmental standards.
The top performing 5% of producers will be rewarded with extra orders to the tune of 100,000 litres of milk each year, while the bottom performing 5% of producers will be given a notice period of six months to improve standards before being axed as suppliers.
Simister said by maintaining its cost of production model, and focusing on delivering quality, value, innovation and service for its customers, Tesco was confident the TSDG could "continue to be a standard bearer for the industry".
The retailer remained "committed to helping customers by providing the best quality British produce every time they shop with us", he added, "So it's crucial to us and our farmers we continue to evolve the most sustainable, progressive and leading dairy group in the UK."
Members are poised to discuss the revamped membership model on Thursday at the TSDG conference.
TSDG farmer and committee chairman James Stephen welcomed the continuation of the group.
"It provides members with the valuable security and peace of mind, which is often lacking in this increasingly volatile market," he said, and allowed members to "focus on what matters, which is providing the best quality milk and standards for our customers".