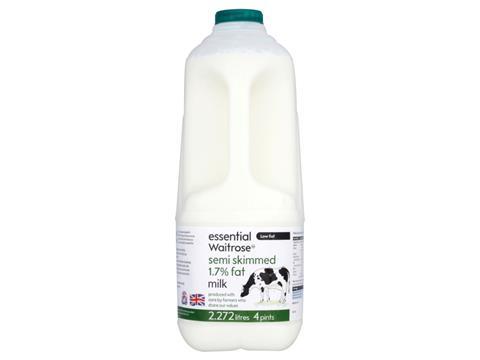 Waitrose has become the latest supermarket to hike the price of milk, with a standard four-pint own-label bottle this week rising from £1.10 to £1.15.
It said the hike reflected a recent increase in the price it paid its dairy farmers for their milk, and follows a similar change by Sainsbury's last week, and by Morrisons, which moved to the £1.15 price point last November.
Tesco, Lidl, Asda and Aldi are all still retailing their own label milk at £1.09, while Iceland is selling a four-pinter at £1 [Edge by Ascential].
"We continue to pay our dairy farmers one of the highest milk prices in the industry, which takes into account any changes in their cost of production and allows them to invest in the future of their farms," said a Waitrose spokeswoman.
It comes as the price of supermarket staples starts to creep up following a Christmas period that ended cheaper on average than the same time in 2017, according to The Grocer Price Index.
As reported by The Grocer last week, rising milk prices have been mirrored by inflation in the bread category, with shoppers paying on average 2% more for wrapped bread than they did last January. The average price of butter is also up by 2% since November, with the summer heatwave and a surge in wheat costs all contributing to price rises.
The average farmgate price for non-supermarket-aligned farmers in Great Britain rose steadily to a high of almost 32p per litre in October [AHDB], prompting industry commentators to warn retail price increases for milk would be "inevitable".
However, farmgate prices have begun heading downwards since November, with the likes of Müller and Arla both reporting price falls and citing global commodity price declines on the back of an increase in production.
AHDB last week said unconfirmed December milk production in Great Britain was expected to exceed 1,040 million litres – the highest December figure in more than 20 years, and 8 million litres above December 2017 figures.