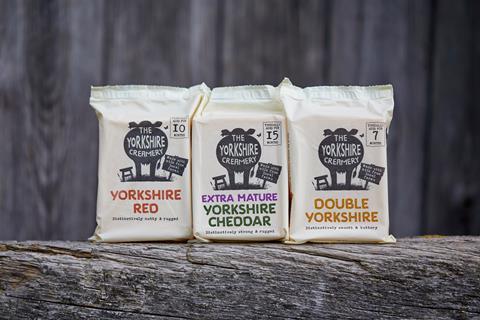 Wensleydale Dairy Products has launched a new brand - The Yorkshire Creamery - as it attempts to expand its dairy offering on the national stage.
Wensleydale, which is currently in the midst of a £3m revamp of its facilities, will initially sell three types of cheese under the new moniker.
It replaces a Wensleydale-branded Yorkshire Cheddar range which the firm brought out last year.
Its Extra Mature Yorkshire Cheddar, Yorkshire Red and Double Yorkshire will be available in northern Morrisons and Tesco stores from this week and will be sold in two different pack sizes – 320g (rsp: £4) and 200g (rsp: £2.50).
There are also plans for a relaunched butter in the new year, along with further cheese NPD.
The move to The Yorkshire Creamery brand name was prompted by consumer research that showed the Wensleydale name was too closely associated with Yorkshire Wensleydale cheese, according to the company's MD David Hartley.
"Wensleydale is still very much the heartbeat of the business – it's what is loved in the area," said Hartley.
"But we want to develop cheese that's not just locally and regionally known. We want something that's got national appeal.
"The thing that really shone through was the Yorkshireness of the whole proposition and the trust that consumers have in Yorkshire values – it is recognised as a place of great food, quality and steadfastness."
Wensleydale Dairy Products' rollout of the Yorkshire brand and its cheese range will be accompanied by marketing activities including in-store sampling and a digital campaign.
The company hopes the launch will allow it to move into the cheddar category, as well as add value to the 'territorial' cheese market.
"We've made a whole range of cheeses as well as Wensleydale for many years. We've won awards for our red leicester and double gloucester-style ones," Hartley added.
"Wensleydale is a custodian of a thousand-year heritage in cheesemaking in the Dales. That coincides with our desire to take the branded side of the business forward and to offer an opportunity to consumers to buy into a category that is probably in need of a refresh."