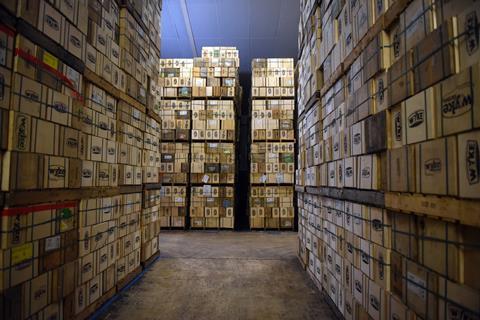 Wyke Farms has set up an EU-based operation in order to streamline exports to the bloc and assist rival cheesemakers in avoiding Brexit-linked disruption to EU trade.
The Somerset-based supplier has set up an Irish company to continue accessing the EU and is "open for business" as a consolidator via third party storage sites in France and Germany, said MD Rich Clothier.
The operation will be run from a recently completed export "centre of excellence" at Wyke's Wincanton distribution site.
The facility includes a team of six staff tasked with filling out export documentation and a chilled dispatch store – funded by a £1.3m food processing grant through Defra's Rural Development Programme for England – that allows for the distribution of Wyke's cheese and the consolidation "of complex multi-product export orders" from other suppliers.
"We already work in the same way to distribute cheese from partners including Dewlay, Godminster and Long Clawson worldwide," Clothier said.
The new export hub allowed it to roll out the consolidator model to the EU and other regions, while also offering a crucial service for smaller businesses struggling with border bureaucracy, he added.
"Non-tariff barriers are here to stay and so significant that you need volume in order to keep costs down. Checks at the border are not necessarily the problem, it's all the paperwork required upfront and the costs around individual vet certificates," he suggested, citing last week's concerns over the EU's ultimately abandoned ban on Covid vaccine shipments through Northern Ireland as a key example of what was now a volatile trade relationship with the bloc.
"Brexit negotiations are never over, they are never going to stop, it's an ongoing fluid negotiation that will change depening on which trade deals we do, and complexity and border checks could become more rigourous.
"We can consolidate cheese from third parties with our own cheddar along with the invoicing, collecting the money and sorting the VAT," Clothier said, while adding the business was also looking to adopt the same model to export to other territories once future trade deals were agreed.
The move follows a turbulent start to the year for cheese exporters, with a number of smaller businesses bemoaning the difficulties in exporting to both the EU and Northern Ireland.
"Sadly, the days of rocking up with half a pallet yourself is no longer realistic," said Clothier. "Smaller suppliers will need to go through consolidator companies to keep exporting. It's all about full containers and the more volume we can do the slicker the operation can be."