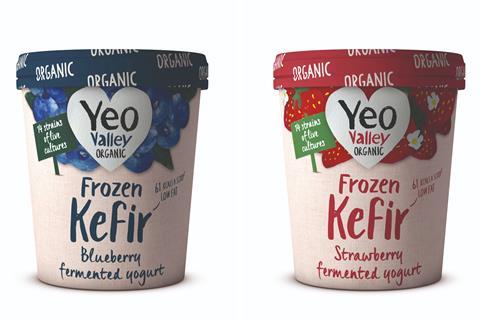 Yeo Valley has moved to capitalise on the popularity of kefir by launching its first-ever frozen kefir range.
Made by the supplier in Somerset from organic British milk with live kefir cultures, the new range built on the success of Yeo Valley's existing kefir yoghurt lineup, said brand manager Tor Crockatt. It also offered shoppers "a versatile and healthy treat to have any time of day", she added.
Described as "ice cream without the guilt", the range is made up of 480ml tubs of gut-friendly, low-calorie and high-protein frozen yoghurt in blueberry and strawberry flavours, which will go on sale in Waitrose on 27 July.
The launch comes as the kefir market has almost tripled in value since March 2019 to £10m a year, on the back of its gut health credentials [IRI 52 w/e 22 March].
Yeo Valley had ­delivered 70% of that growth, Crockatt said. It was aiming to further cement its market leading status through the frozen kefir launch, she added, citing the latest Mintel Ice Cream Report from June, which showed ­consumers were most interested in trying products that delivered low calorie and gut health support when buying ice cream.
It comes as the brand also took its first steps into the strained yoghurt category last month, with the launch of a new Super Thick Kerned yoghurt range.
The yoghurts are on sale now in Morrisons in 850g, 450g and 170g pots in two fat varieties, 0% and 5%. The range will roll out on a wider basis over the summer, Yeo Valley said.
Its name refers to the forgotten Somerset word for thickened of SomerKerning, and the practice where milk, mixed with live bacteria is then sieved to strain off the whey.