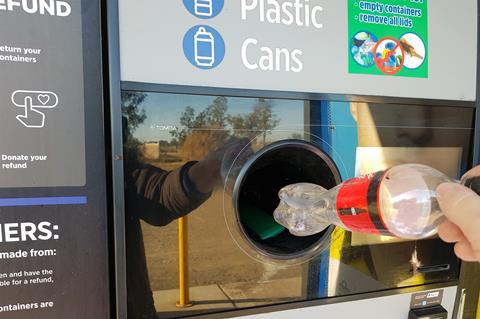 Soft drinks giants believe the launch of the UK's first deposit return scheme in April next year is no longer viable, as a standoff between the governments in England and Scotland heaped yet more uncertainty on the plans.
On Friday, the UK government finally announced it would allow a "temporary exclusion" under the Internal Markets Act for Scotland to go ahead with the launch – but only if the scheme dropped plans for the inclusion of glass.
The Scottish government slammed the move, accusing Westminster of "sabotaging" its flagship DRS policy, having previously warned it could pull the plug as soon as this week unless the proposals were approved.
However, as the industry awaits Holyrood's next move, the BSDA, which has previously been urging the UK government to support Scotland's DRS launch, withdrew its support. The only sensible move now was for DRS across the UK to be put back until at least October 2025, it said.
"BSDA members have long supported the introduction of an industry-led, interoperable DRS run on a not-for-profit basis to help support a circular economy, reducing litter and increasing recycling," said BSDA director general Gavin Partington.
"Our members have made significant investments of money, resource and time since 2019 to prepare for the launch of DRS Scotland.
"However, given the level of political uncertainty currently surrounding DRS Scotland, surely the only viable option now is for all stakeholders to commit to launching DRS across the UK on the same timeframe, October 2025."
Last week, Rishi Sunak urged the Scottish government to go back to the drawing board with its plans, claiming they would lead to reduced choice and increased prices.
But a day later, the government announced it was granting a temporary exclusion with major conditions. These included the exclusion of glass, which is included in the Scotland plans but not those south of the border.
It said the inclusion of glass would add "cost and complexity" to the schemes, in particular to hospitality and retail sectors, as well as heap inconvenience on consumers.
Among other conditions, Westminster said the launch would also be subject to Scotland agreeing a maximum cap on deposit levels with the rest of the UK.
It said it had "noted the powerful representations made by a broad range of businesses across the UK that interoperability of schemes is critical to avoiding unnecessary barriers to trade".
However, Scottish first minister Humza Yousaf claimed his government only found out about Westminster's decision through media reports late last Friday and said Westminster's decision was a huge blow for the environment.
"They're not just trying to scupper the DRS – they're trying to undermine devolution," he told the BBC.
"Not only is it bad in terms of devolution and self government, it's really poor for the environment. If we don't include glass that's 600 million bottles that won't be moved from our streets, our beaches and our parks."
Campaign group City to Sea's policy manager, Steve Hynd, said the move was a terrible blow to the ambition of the scheme.
"That Westminster bottled it and are to exclude glass from their own deposit return scheme is disappointing," he said. "That they could legally be foisting their lack of environmental ambition onto the Scottish Parliament shows a dangerous level of contempt not just for our environment but also for our internal democracy."
However, the excusion of glass would be warmly welcomed by many sectors in the industry.
ACS CEO James Lowman said: "The announcement of the exclusion of glass from DRS in Scotland is welcome news for many local shops that were concerned about asking their store colleagues to handle and store glass that could be broken or soiled.
"We now need clarity from governments across the UK how they plan to implement DRS so we can prepare. The best outcome for local shops and our supply chain partners would be for an aligned introduction of DRS across the UK."
Scottish Wholesale Association CEO Colin Smith said: "We have argued for several years that a UK-wide approach made more sense and that including glass increased costs and complexity.
"While the UK government's late timing of this announcement is disrespectful to all the businesses which have been waiting for this confirmation, it's now critical that the Scottish and UK governments work together, and with those affected businesses, at pace to ensure that the Scottish scheme can go live smoothly next spring and the UK-wide schemes can work as seamlessly as possible in future."