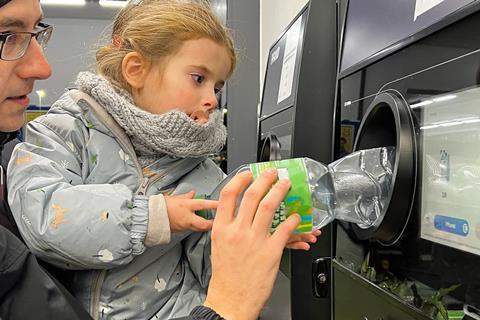 Soft drinks giants have written to prime minister Rishi Sunak urging him to spare the UK's deposit return scheme from the axe, amid fears it may be next up in his environmental cost-cutting drive.
The Grocer can reveal all of the leading companies, backed by a host of environmental groups and supplier trade bodies, contacted the PM immediately after it emerged he was scrapping a series of green measures amid fears over the cost to consumers.
The letter also sees suppliers openly clash with supermarket bosses, who have called for the government to shelve the DRS plans, amid claims it will cost nearly £2bn a year to run.
Sunak's rowback, including his plan to "scrap" unaffordable elements of the government's recycling plans, has led to heightened speculation that DRS could be threatened as the government looks for more way to reduce spending and protect against inflation.
The letter to Sunak is signed by the bosses of companies including Coca-Cola, PepsiCo, Suntory and AG Barr, as well as several other major companies and trade bodies such as the FDF and the BSDA.
They are supported by the likes of the RSPCA, Surfers Against Sewage and the Marine Conservation Society.
The Grocer revealed last month leading drinks industry sources were resigned to further delays to DRS, which is officially due to come into force in October 2025, but is said by experts to be unlikely until at least the end of 2026 at the earliest.
However, there is a fierce dispute between those who want to push ahead with DRS under a revised timescale and those who would like to see it culled completely.
The Grocer revealed last month that claims by the BRC that DRS would cost £1.8bn a year to run were being strongly disputed, with one source describing them as "Alice in Wonderland figures".
The letter from the drinks industry reads: "As a group of manufacturers, retailers and environmental organisations, we want to reiterate our unwavering support for the government's commitment to introduce a deposit return scheme in light of unsupported reports of its costs.
"The UK government has committed to a target of reaching Net Zero by 2050, a target that is supported by 72% of the public. For this to be achieved, stagnant recycling rates will need to rise significantly, and a deposit return will provide infrastructure to do just that at no cost to the taxpayer.
"More than 40 countries have successfully implemented a deposit return scheme, with the best designed seeing return rates of up to 98% as a result.
"If drinks manufacturers and retailers are to reach Net Zero, they will need to reduce the carbon footprint of their packaging – the most effective way of achieving this is through the introduction of a deposit return scheme.
"Many drinks manufacturers and retailers have made similar commitments and signed external pledges that are all conditional on deposit return being implemented and interoperable across the country. DRS is therefore a policy that should carry universal support."