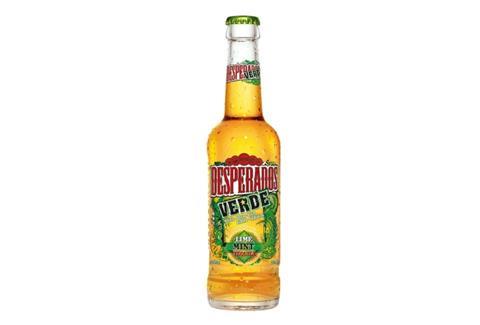 Heineken is expanding its booming Desperados brand - as other major suppliers eye up the growing spirit beer market.

Rolling out this month in 330ml bottles, 4.7% abv Desperados Verde is a mojito-flavoured variant that mixes the original drink's tequila flavour with a hint of mint and lime. Aimed at 18 to 34-year-olds, it was designed to tap into demand for sweeter flavours and lighter tastes, said Heineken.

"Palates are changing," said Heineken off-trade MD Martin Porter. "We have seen an explosion of flavour innovation across cider and spirits, and are beginning to witness a similar pattern with flavoured beers."

The flavoured beer category could hit £200m by 2016, said Heineken, and had grown 147% over the past year to £30m [IRI 52 w/e 7 December 2013].

Desperados accounts for around two-thirds of the market, and had soared 171% to £22.3m [IRI 52 w/e 1 February 2014]. The brewer brought UK distribution of Desperados in-house in 2012 and invested heavily to increase distribution.

Other spirit beer players include SHS Drinks and Global Brands, which has rolled out bourbon-flavoured beer Buddy's in a new 500ml format to Tesco stores in recent weeks.

Mintel senior drinks analyst Chris Wisson said there was "no reason" why other major drinks suppliers wouldn't follow suit and expand into the spirit-beers category in the coming months.

"As with low-abv beers, spirit beers are one of the areas of growth in the market," he said.