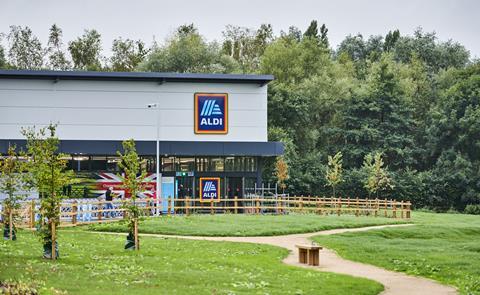 Aldi and Lidl are "very unlikely" to be able to grow their UK estates to 1,500 stores each, according to an advisor to a leading supermarket real estate investment trust.
Doing so would mean trading on their own doorstep or in weak locations, according to Rob Abraham of Atrato Group, investment advisors to Supermarket Income REIT.
Supermarket Income REIT owns 55 supermarkets across the UK, including three Aldi stores.
"If I look at our current portfolio, there are not many that don't already have a discounter nearby, so they really would start to cannibalise their own trade. I find it very unlikely 1,500 will be achievable," said Abraham, Atrato supermarket MD.
"If you look to historical trends in growth of grocers, typically the later stores become the weaker locations. I think you would see some stores opening in sub-par locations that would be challenging to be profitable."
Abraham said opening new discounter stores was also becoming "more challenging given the high build costs, the scarcity of locations and the competition for sites".
"All of those factors combine to potentially drive rents higher in that space for discounters," he added.
Aldi set its latest target of 1,500 UK stores as it opened its 1,000th earlier in September.
Lidl, which currently has over 960, also sees "the potential for hundreds" more, its GB CEO Ryan McDonnell said days later. His comments followed Lidl scaling back its new store ambitions this year to open 25 instead of the usual pipeline of 50, while investment is focused on expanding warehouse capacity.
Aldi this week published a list of priority locations for new stores across the country. The discounter also announced its full-year results on Monday, including a pledge to invest £1.4bn over the next two years in its estate and technology infrastructure.
However, Aldi UK & Ireland CEO Giles Hurley acknowledged it was now "difficult to say" whether it would hit a previous target of 1,200 stores by the end of 2025. "There is clearly the challenge of identifying a site, acquiring it, going through the planning process, constructing it," he said.
Aldi UK & Ireland revenues rose by 14%, or almost £2bn, to £15.5bn in the 12 months to 31 December 2022. Operating profits increased almost threefold to £178.7m, as margins bounced back from 2021's 11-year Covid-related low of 0.4% to 1.2%.