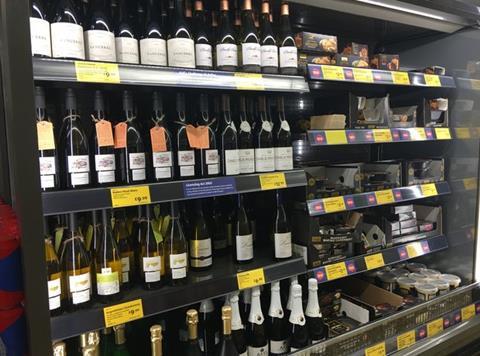 Aldi looks set to open another front in the price war by moving into the dine in for two market.

The dine in for £10 deal has been a staple of the grocery market since being introduced by M&S in 2008, but now Aldi is offering shoppers a chance to pick up a main meal, side dish, dessert and drink for less than £8.

Currently only available in Aldi's smallest store in Tooting, the range is merchandised together for a mix and match, meal for tonight mission, in chillers at the end of an ambient aisle.

New mains under the Specially Selected brand own-label range include a Scottish steak and claret pie (rsp: £2.99), lamb moussaka (rsp: £2.69), and British beef lasagne (rsp: £3.99). Sides include potato dauphinoise (rsp: £1.79) and cauliflower cheese (rsp: £1.89). Desserts include vanilla cheesecakes (rsp: £1.69) and Madagascan vanilla custard (rsp: £1.49) while drinks include Buck's Fizz (rsp: £1.99).

If a customer purchases the moussaka, dauphinoise, custard and Buck's Fizz, that comes to a total of £7.96.
Asda
Launched: 2015
Consists of: Extra Special range main, side, dessert, and wine or soft drink
Frequency: permanent
Cost: £10
Marks & Spencer
Launched: 2008
Consists of: main, side, dessert, and wine or non-alcoholic alternative
Frequency: fortnightly
Cost: £10
Morrisons
Launched: 2016
Consists of: The Best main, side, dessert, and wine or soft drink
Frequency: tbc
Cost: £10
Tesco
Launched: 2008
Consists of: Finest range main, side, dessert and wine, beer or soft drink
Frequency: permanent
Cost: £10
Waitrose
Launched: 2008
Consists of: starter or dessert, main, side, and wine, beer or non-alcohol alternative, or chocolates
Frequency: various points
Cost: £10
Merchandised alongside are more expensive items complementing the dine in offer.

Aldi has denied the new range and merchandising is a trial for rollout to other stores and told The Grocer the idea was created and implemented by the local store manager.

The Aldi move comes just two weeks after Morrisons launched its first ever dine in for two for £10 deal. Morrisons said it ran the promotion as a way of introducing customers to its relaunched The Best premium own-label range.

The deal ran for a four-day period from 19 October and the retailer said it was taken up by 27,000 shoppers, leading to a 41% increase in sales of The Best products that were featured.

Speaking this week as Morrisons posted a 1.6% increase in like-for-like sales for the 13 weeks to 30 October, CEO David Potts said it was likely to do it again later this month. "Our customers liked it, they bought it and we are going to do it again," he explained.

The Morrisons deal featured eight choices of ready meal for two from The Best range including slow-cooked British pork belly, beef bourguignon with roasted shallots and sea bass fillets with rocket.

Potts also said Morrisons had learned from the promotion and would be making changes in time for this month's offer. These included running the deal for seven days rather than four and adding coffee to the drinks options of wine and soft drinks.

M&S, Asda, Tesco and Waitrose still run dine in for two deals as part of their promotional repertoire. However Sainsbury's has phased them out as part of its decision to ditch multibuy offers.