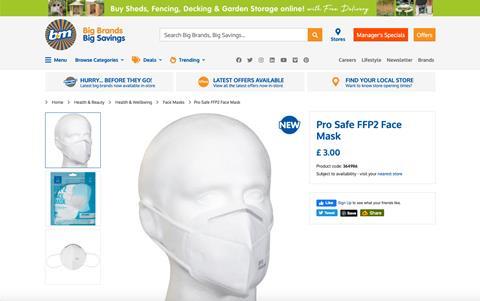 B&M has launched a range of face coverings including FFP2 masks designed to help prevent the spread of viruses.
FFP2 masks are recommended for clinical use by the World Health Organization. In the UK, NHS guidance goes further, recommending medics use higher grade FFP3 masks. However, UK government advice also says FFP2 masks can be used safely by the NHS if needed.
It stands for 'filtering face piece', with 3 indicating a higher level of protection than 2.
B&M's 'Pro Safe FFP2' face covering is a "four-layer face mask that helps prevent the spread of viruses" according to the retailer. It "helps to filter up to 95% of airborne particles".
The Co-op and Aldi are among other retailers to have launched face masks in recent weeks, opting for ones not suitable for medical use. The Co-op's quickly became its bestselling products, outselling everyday essentials such as milk.
B&M's packaging also states the masks are "non-medical" despite being FFP2 standard.
The Grocer revealed in June that face masks were set to become commonplace on supermarket shelves despite initial retailer reservations about the possibility of being seen as depleting stocks that could be used by the NHS.
Chris Patterson, MD of TSL, which had created extra capacity to supply masks, said at the time that he expected different supermarkets to carry different grades, some stocking type 2 surgical face masks and others a more basic range of face coverings.
According to government guidance published in April, the UK has good stocks of FFP3 masks.
B&M's FFP2 masks are disposable and cost £3 each. They are part of a seven-strong new range of face masks launched in stores last week.
The range also includes a 50-pack on non-FFP2 disposable face masks for £19,99, described as an "emergency face mask" that "helps prevent the spread of viruses".
B&M is also offering a reusable polyester "fashion face mask" for £19.99.