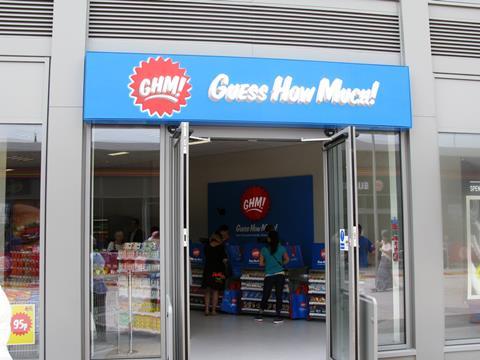 A new discount retail chain launched by former Asda CEO Andy Bond has laid down the gauntlet to rivals such as B&M Bargain and Poundland.

The first GHM, which stands for Guess How Much, opened this week in Hinckley, Leicestershire. It is part of the Pepkor UK stable set up by Bond in 2014 as an offshoot from South African entrepreneur Christo Wiese's retail group Pepkor, now part of the Steinhoff group.

Pepkor UK also owns the 50-strong discount clothing chain Pep & Co.

The 8.700 sq ft store is next door to a Poundland outlet and is split between ambient grocery, laundry and household, petcare and Pep & Co clothing.

Pepkor UK COO Simon Singleton, also a former Asda executive, told The Grocer GHM could be described as a "re-filling station" and he was only interested in selling products that "people buy a shedload of".

The store sells 4,500 grocery lines, and Singleton said it would match rivals Home Bargains, B&M and Poundstretcher as well as single-priced discounters on price. However, it had also identified a range of key lines where it would always look to be the cheapest retailer.

"There are 250 lines where nobody will ever touch us on price," he said. "If they want to respond, we will go again. It will cost us a lot less with two stores than those who have 400."

Lines that were most important to his customers included Walkers Crisps six-packs, which are currently 95p, and Coco Pops, Singleton said.GHM currently had direct supply deals with manufacturers including Heinz and Nestlé, he added, while other stock was being sourced via wholesalers such as DCS and Rayburn Trading.

GHM plans to open its second store in Sheppey next week. Singleton said he expected to have 30 stores this time next year.