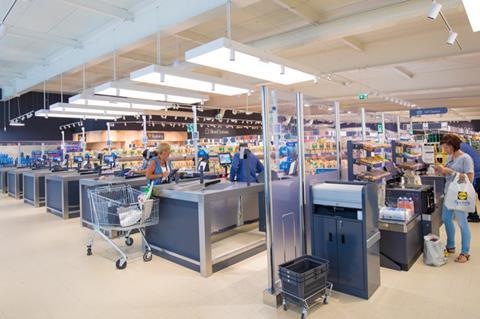 The success of Aldi and Lidl in recent years has been impossible to miss. They have taken all the growth in the market, and they continue to win share in the latest Kantar Worldpanel data.
We all talk about them as a critical factor in our industry. Aldi and Lidl have redefined value for the UK consumer. Aldi and Lidl have forced the big four to radically change. Aldi and Lidl pose real challenges for branded fmcg companies.
We talk about them as if they were one entity, or as near to identical as makes no difference. But is this sensible? Or are there important differences?
Of course, the two are similar. Their shops are of similar size and in similar locations. They both offer a tighter range, with fewer branded lines in permanent distribution. They have recently focused on premium own label. They devote the middle of the store to constantly changing 'when it's gone, it's gone' non-food offers. And they are very hard to match on value for money.
But there are important differences. We have looked at Shopper Intelligence data from autumn 2018, with Aldi and Lidl each rated by nearly 5,000 shoppers.
First, missions. Some 59% of Aldi missions are reported as main shop, versus 49% for Lidl. Aldi's shoppers show greater category loyalty – 53% of those who shop for a category at Aldi say that they do most of the shopping for that category there, versus 40% for Lidl. So Aldi is further developed as a proper "regular big shop" option.
Second, price and promotions. Aldi uses promotions less (45% satisfaction rating) than Lidl (54%). But Aldi would argue that its ability to keep 'top of the league' on price (88% satisfaction, marginally ahead of Lidl's 85%), validates its focus on EDLP.
Third, products. Lidl's bakery counter at front of store, typically clean and fresh, and including great-value food to go, is different. Its use of fridge cabinets with glass doors for fresh meat is different. Aldi is especially strong in produce, with its Super 6 promotion. And it has put significant effort into designing and promoting its Mamia range for babies.
Fourth, the attitude to brands. Lidl offers frequent temporary listing opportunities for brands, on off-shelf stacks, dotted around the store. The volume uplifts can be very appealing for brands, at least in the short term. Longer term, neither company is a great friend to the big-name brands. Aldi was challenged last year over pack imitation by both Heck and The Collective. While most shoppers surely don't believe they are buying the name brands when they pick up the Aldi or Lidl equivalents, those equivalents do borrow some of the leaders' signals, to their advantage.
So Aldi and Lidl are not one entity. Of course, they share much. But there are important differences in mission, promotion, category and they way they use brands. Given their importance, we shouldn't always talk about them as if they were twins.