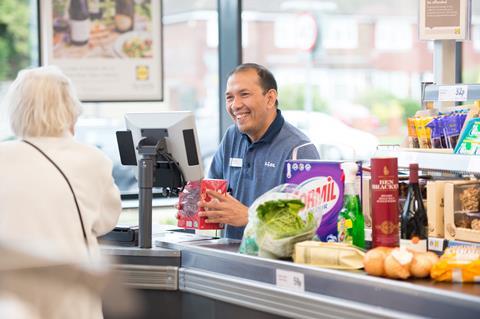 The number of shoppers using discounters has shot up by more than a half since 2016, according to new research.
Shoppercentric's latest consumer trends survey found 67% of 1,000 respondents had shopped in Aldi or Lidl in the past month. In 2016, when the shopper insights company first conducted the survey, the figure was 43%.
It means 56% more shoppers said they used one of the two discounters now than did three years ago.
Meanwhile the proportion that said they'd used one of the big four had remained static, at 84%.
The number shopping "little and often", avoiding a big main shop, had also soared, from 11% in 2016 to 17% this year.
Ambitious store opening programmes were set to give Aldi and Lidl "accessibility on a par with the big four" in 2020, making it a pivotal year in the battle with the bigger supermarkets for market share, said Shoppercentric MD Jamie Rayner.
Aldi plans to open 50 stores a year to reach 1,200 by 2025, up from the current 874. Lidl is planning openings at an even faster rate, taking it from 770 to 1,000 by 2023.
"As Aldi and Lidl deliver more store openings in 2020, giving them accessibility on a par with the big four, this really is the year where the mainstream grocers need to get to grips with the role they play in UK shoppers' repertoires," said Rayner.
Bigger grocers were increasingly challenged by a growing recognition of quality products available from discounters, he added.
"The challenge that the discounters now present to mainstream grocers is around the dilution of shopper loyalty. One in three shoppers say they spread their grocery spending more nowadays, so the store they use most often gets a smaller share than in the past.
"Combine this with the little and often trend, and the danger for the large grocers is clear – loyalty is increasingly a luxury, and growth under these circumstances is not going to get any easier."