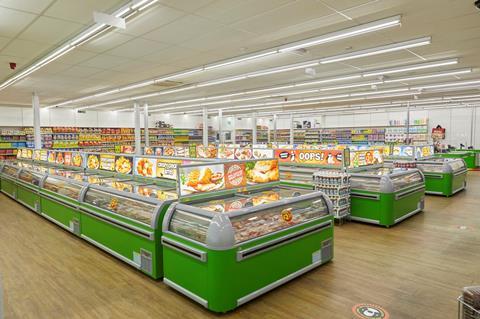 Oops, the new frozen food retailer The Grocer revealed was on the way in March, has opened its first two stores, in Lancashire.
The retailer is selling food it says would otherwise go to landfill because of overproduction, packaging errors, or slight imperfections, but which remains safe to eat.
Examples include pizzas with mushrooms missing, currently among the 600 lines offered. The full range spans chilled, ambient and fresh as well as frozen, including brands and own label.
The first Oops Food Clearance store opened in Bolton in October, followed by the second in Preston last week. Both are roughly 5,000 sq ft units in retail parks. Two more openings are planned by Christmas, in St Helens and Warrington, and 30 by the end of 2021.
The business is the retail operation of frozen food supplier KPFF, which specialises in repackaging clearance products.
"We have to stop sending perfectly good food to waste simply because it has an imperfection on the packaging or there has been an error in the manufacturing process and it no longer complies with retailers' specifications," said Oops technical manager Elaine Stevens.
"At Oops, we fully understand food manufacturing, supply chain and retail processes and the challenges within them. We have therefore developed and built an operation that strips surplus retailer own-label, branded and foodservice products." She said the products were repackaged and labelled at the business' purpose-built facility in Liverpool, before being sold in stores at discount prices.
A spokesman said Oops was currently working with Moy Park, Birds Eye Pizza, Midland Bacon, Agristo, Rolli and Shires.
Midland Bacon MD Chris Cox said: "Oops offers a service that ensures all removal of our current packaging and any or all intellectual property rights prior to selling products whilst also disposing of all the packaging in accordance with the appropriate waste & retailer standards."
Oops CEO Noel Davis, who is also director of KPFF, said: "Now is the perfect time to act, as the impacts of Covid-19 and a second lockdown are felt across the country, more and more families are struggling with access to affordable, nutritious food. We are here to help deliver sustainable solutions to this challenge."