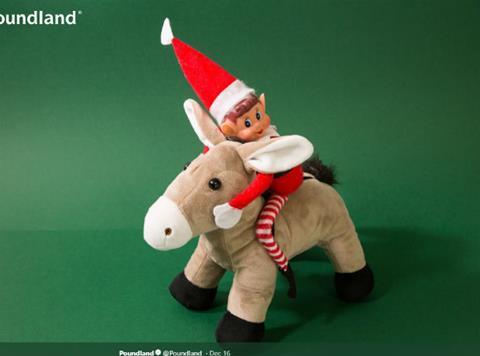 Poundland put the troubles caused by the accounting scandal at its owner Steinhoff International behind it to deliver a stonking Christmas trading period.

The discounter today reported a like-for-like sales increase of 5.6% for the 12 weeks to 24 December. This was the retailer's most successful Christmas since it began trading in 1990.

Like-for-likes for the three weeks to Christmas were 6% up while sales in the final week, including an extra day's trading, hit a record £59m - up 20% on the previous year.

The Poundland results come on the same day that its parent company Pepkor Europe revealed it had replaced planned investment from Steinhoff in full with a new independent £180m loan facility to support its ongoing capital expenditure and investment plans for Poundland, Dealz, Pep&Co and Pepco.

The new financing is also likely to convince trade credit insurers to restore cover to Poundland that had been pulled in mid-December as a result of the Steinhoff crisis. The results confirm indications from the retailer at the time that the trade credit problem that had resulted in some suppliers withholding stock did not affect the key festive period. Poundland had already received its Christmas stock into its supply chain before the trade credit issue arose.

Poundland's latest results represent a swing in like-for-like sales of almost 9%, moving from -4% just over 12 months ago.

"This Christmas, sales have even exceeded our high expectations - which is why I want to thank the efforts of both colleagues and suppliers alike over the past few weeks," said Poundland UK & Ireland MD Barry Williams.

"Poundland is buzzing, significantly outperforming the market, entering the new year with great confidence."

Poundland said it sold over five million rolls of wrapping paper, over one million units of tinsel; over 26 million Christmas cards and 28 million Christmas tree baubles over the period.

Own label chocolate bar Twin Peaks was an instant stocking filler success. Its entire initial 500,000 run was sold before Christmas, making it the biggest NPD item ever created by Poundland. Toblerone sales also increased to 3.3 million over the full quarter. Total confectionery sales increased by £3.5m, up 9% on last year.

The retailer said its controversial 'Elf Behaving Badly' marketing strategy had proved a hit. It sold more than 200,000 'bad elves' alongside over a million elf accessories.

More than 570 Poundland stores achieved record sales in the week before Christmas, with 121 stores joining the list of stores in Poundland's '100 Club' with sales over £100,000 in a single week.

This year Poundland said it planned to double the number of 'shop-in-shop' Pep&Co fashion concessions across its Poundland and Dealz stores.