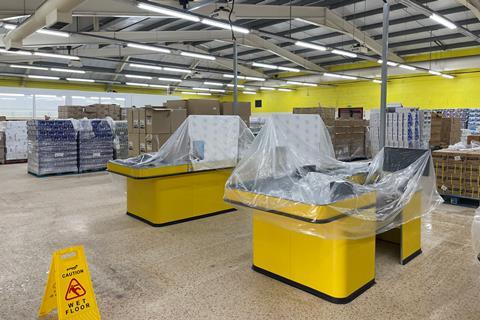 Russian hard discounter Mere has finally nailed down an opening date for its first UK store, after pandemic disruption slowed work on the fitout.
"On 14 August we will be glad to present our new retail model: a real hard discounter, with no shelves, no service, no convenience, just the lowest prices," Mere UK business development manager Aleksandr Chkalov told The Grocer.
Mere claims it will undercut even Lidl and Aldi by up to 30%, with a business model that sees suppliers delivering directly to stores and products displayed on the pallets they arrive on. The Russian discount giant prides itself on offering no customer service in order to keep prices low, with a maximum eight staff per store.
Pictures given to The Grocer show some of the Preston store's products and brands as it readies for opening. They include React antibacterial wipes, Maxsonic batteries, Luxe and Cusheen toilet tissue, Goodwin's instant noodles, Laser tinned mackerel and Warrior energy drinks. The store will have a maximum of 1,200 different products.
Some of the unopened boxes bear the logo of Gem Imports, a wholesale supplier of discount product ranges run by Chris Edwards, who is also MD of variety discounter retail chain One Below and whose father, Chris Edwards Sr, founded Poundworld.
Chkalov said the store, which also has a walk-in chiller room, was still taking deliveries and it was too early to disclose further details of the range.
Otherwise, "all the preparation procedures are successfully done," he said. "We are completely fitted and ready for the opening.
"We are now on the verge of creating a new retail segment in the UK market and we are sure it will become pricelessly useful for the country and society."
The Grocer revealed earlier this month Chkalov had initially thought the first UK store would open around the start of 2021, but fitout work had taken longer than expected with contractor staff working remotely.
The business is aiming for 300 UK stores within a decade. The Preston opening is to be followed about a month later by a second in Caldicot and two more this year, in Castleford and Mold.
Founded in Krasnoyarsk in 2009, Mere trades in Russia as Svetofor, and has grown to a claimed 3,200 stores globally, including in Germany, Poland, Romania, Lithuania, Latvia and Ukraine.