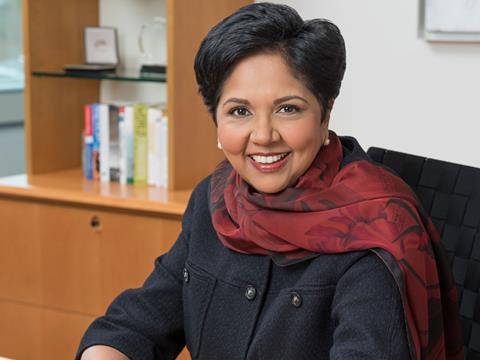 In 2014, at an event in Aspen, Indra Nooyi did something few women in her position have done. She spoke, with extraordinary candour, about the struggle of balancing her family life with her job as CEO and chairman of one of the world's biggest consumer goods companies.
The constant guilt, the outsourcing of parenting duties to patient PAs and the appeasing of a neglected (and at times resentful) spouse: here was a warts-and-all account of female leadership that felt a million miles from the 'having it all' narrative that's so often pushed.
"I don't think women can have it all," Nooyi said. "I just don't think so. We pretend we have it all. We pretend we can have it all. […] But if you ask our daughters, I'm not sure they will say that I've been a good mom."
This level of frankness was trademark Nooyi, say people who have worked with and for her.
"Indra wrote to colleagues on a regular basis," recalls one former PepsiCo UK staffer. "Not just about business updates – but about her roles as a mother, a wife and a daughter. She painted a picture of a very inspirational modern-day leader."
Part of that picture was a willingness to speak uncomfortable truths – particularly about the challenges faced by women trying to progress in the workplace.
"I still think we hold women to higher standards than men," she said in 2017. "We still think that a woman has to prove herself by working 20% or 30% better than the man. In my case, when I was early in the workforce it was 50% to 100% better than the men – at least the number has come down a bit, thank God. But we haven't yet reached an equitable place in society. If that happens, then maybe women will have a much better shot at reaching the top of the organisation."
What Nooyi's long-term legacy after 12 years at the helm of PepsiCo will be remains to be seen. Certainly, her focus on shifting the company's portfolio towards healthier options and investing in sustainability initiatives looks prescient. Growing revenue from $35bn in 2006 to $63.5bn and nearly doubling the share price won't have hurt her reputation either.
Challenges, however, unquestionably remain. With soaring global obesity rates and growing concerns about sustainability, this is no easy time to be in snacks and fizzy beverages. Already, talk of PepsiCo being split into separate beverages and snacks companies has re-emerged – an idea Nooyi successfully faced down after it was pushed by activist campaigner Nelson Peltz a few years ago, but which may gain currency once more following her departure.
What isn't in doubt, however, is the impact she has made simply by being a highly visible woman in a top job. On LinkedIn, where Nooyi posted her resignation announcement, hundreds of messages flooded in thanking her for being an inspiration to girls and women everywhere.
At a time when fmcg continues to struggle to put women in top jobs, losing an outspoken, high-profile role model like Nooyi is a real blow.