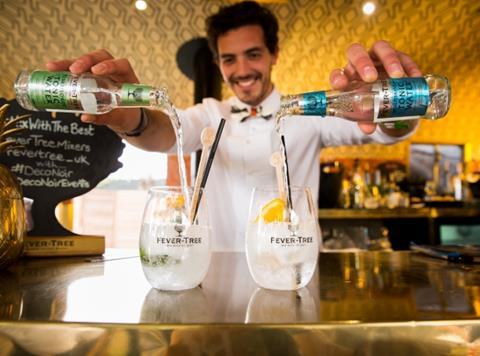 Fever-Tree has overtaken Schweppes to become the best-selling mixer brand in Britain's supermarkets.
A festive supermarket sales surge means Fever Tree now holds a 39% market share in the off-trade mixer market, compared to Schweppes' 31% - though Schweppes still holds a larger share of on-trade sales [IRI 13 weeks to 31 December].
The brand's range was "appealing not only to loyal customers but also bringing consumers back to the category and importantly attracting a new, younger audience", said CEO and co-founder Tim Warrilow. "This really proves what we've said for a long, time, putting quality and variety back into the category has really broad appeal."
There was little threat from "copycat competitors", he added. "All the rest of the premium competitors have actually declined in market share collectively, so I think that's also one of the most encouraging things for us. Not only are we growing at the rate we are, but premium competitors are not having much effect."
Fever-Tree's latest trading update predicts a 66% uplift in sales in its upcoming full-year results, following "significant" market share gains over the year ending 31 December.
Revenues are expected to hit approximately £169m, following a 58% sales surge over the second half of 2017 on the prior year period. UK revenues alone are expected to be roughly 96% ahead of 2016.
Fever-Tree's domestic performance had been "exceptionally strong", claimed the brand, which gained "significant market" share from its competitors.
The company also anticipates a 42% uplift in Continental Europe, and a 39% increase in the US, where it opened a new office in December, appointing Charles Gibb as North American CEO. In light of these figures, Fever-Tree aims bring planned investment into its US operations forward.
There was "clear evidence that the same trends of premiumisation and mixability that we've previously highlighted are accelerating and we are increasingly excited by the global opportunity this presents, particularly as we transition to our own operations in the US", said Warrilow.
Fever-Tree's shares were up 2.26% to 2,490p at the time of writing.
The brand was "a unique asset that offers a leveraged play on premiumisation in spirits", said Jefferies analyst Edward Mundy. "The mixers category remains ripe for mass disruption and we see runway for strong double digit medium-term growth."
Warrilow shook off rumours of a potential takeover by Unilever last week, which sent shares surging despite no indication of there being an offer on the table. "Would we entertain an approach? We've been asked this question many times and our answer hasn't changed. We just see so much opportunity ahead. It's growing and growing - the potential of this market and the fever tree brand. That is genuinely what we're focussing our attention on.
"Of course, we're a public company - if someone comes to us with a proposal we have to listed, but what we can achieve on our own steam is very considerable."