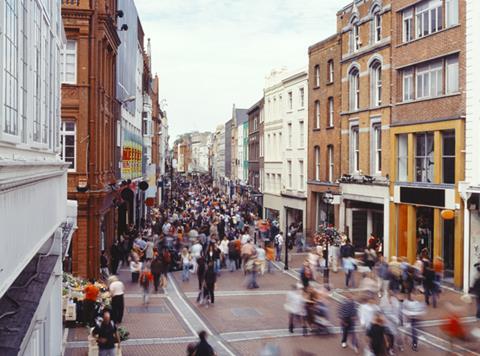 Grocery sales benefitted from a small boost in November as shoppers flocked to supermarkets to grab a bargain on a record-breaking Black Friday, according to the latest BRC-KPMG Retail Sales Monitor released this morning.
Despite a seventh consecutive month of decline for the food sector, the dip was less sharp than previous periods and showed an improvement over the three months to October.
UK retail sales – including non-food products – grew 0.9% in November on a like-for-like basis compared with 12 months ago, when they had increased 0.6% on the preceding year. On a total basis, sales were up 2.2%, against a 2.3% rise in November 2013. It was the best performance in three months, the BRC-KPMG research found.
Over the past three months, food showed a total sales decline of 1.2% and 3.1% on a like-for-like basis. However, the three-month average change for total sales of food was an improvement over October, when it fell by 1.4%. Adjusted for food inflation, as measured by the BRC-Nielsen Shop Price Index, the three-month average decline decelerated to 1.3%.
Non-food continued to outperform food, with a three-month average total growth of 2.4%.
Black Friday deals helped generate footfall in the supermarkets as consumers shopped for bargain big-screen TVs and other electrical items, and there was "encouraging demand" for premium food products, the research showed.
Household appliances was the best-performing category in retail for the month, thanks to the push from Black Friday, followed by furniture and the home categories.
Joanne Denney-Finch, chief executive of retail analyst IGD, said: "Supermarkets played a big role in Black Friday and while this was mainly about non-food deals, it did give a small boost to grocery sales by encouraging more visits to stores.
"Overall, the squeeze on sales continued through November but this was primarily due to falling retail prices supported by lower fuel and a drop in some food commodity prices. The number of items sold will have been quite similar to last year.
"This bodes reasonably well for the Christmas trading period."
Helen Dickinson, director general at the British Retail Consortium (BRC), added: "November's retail sales demonstrate continued growth in sales across the board compared to last month. The huge demand for bargain TVs and other household appliances on Black Friday meant that electricals were the stand-out category in terms of sales growth.
"That being said, customers also bought full-priced items and showed interest in premium ranges, particularly in food, and retailers who didn't discount for Black Friday also saw increased sales. These are encouraging signs in the run up to Christmas when consumers will likely want to push the boat out even more."
David McCorquodale, head of retail at KPMG, said glimmers of hope were seen in the grocery sector with the sales decline less sharp than in previous months.
He added it wouldn't be a bumper Christmas for the sector but grocers would hope their sales would be on a par with last year.