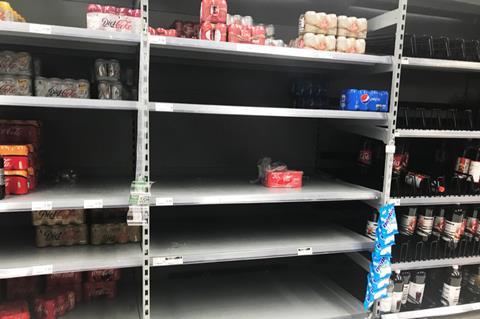 Top story
Sales of food and healthcare products have spiked at the end of February, amid growing concerns about the global coronavirus outbreak.
As retail sales rose 0.1% on a total basis, the latest figures from the BRC-KPMG retail sales monitor – covering the four weeks to 29 February – showed a slight rise in spending on food, toilet paper and healthcare items as consumers reacted to the rising number of Covid-19 cases.
Over the three months to February, food sales increased 0.3% on a like-for-like basis and 1% on a total basis. Non-food retail sales, meanwhile, were up 0.6% on a like-for-like basis and 0.7% on a total basis.
"After a decidedly lacklustre start to 2020, food and grocery sales in February saw a clear uptick from January with an increase in like-for-like and total growth," said IGD CEO Susan Barratt.
"With increased attention on coronavirus, it seems likely this may have had a modest impact over the last week in particular with shoppers buying extra food and grocery items."
Like-for-like UK retail sales decreased 0.4% year on year, battered by the stormy weather affecting the UK during the month as storms Ciara, Dennis and Jorge took their toll on the high street.
"Clouds continued to hang over the retail industry in February, particularly in fashion," said BRC CEO Helen Dickinson.
"Despite many indicators suggesting a rise in confidence among UK shoppers in recent months, this has failed to translate into higher retail sales. However, the end of the month saw a slight rise in spending on food and healthcare as a result of concerns around coronavirus."
Dickinson stressed the negative impact of "sky-high" business rates as the main factor hindering retailers' efforts to reduce their environmental impacts and investments.
She urged the new Chancellor to "take the opportunity to relieve the business rates burden" in tomorrow's (11 March) Budget, to allow more money to be invested back into the industry.
Morning update
Domino's Pizza Group has announced the appointment of Matt Shattock as a chairman with effect as it looks to shake up its leadership team.
Shattock is currently non-executive chairman of Beam Suntory, a role he has held since April 2019. He first joined Beam in 2009 as President and CEO, overseeing the integration of the Beam and Suntory spirits businesses as CEO of the combined group following Beam's $16bn acquisition by Suntory Holdings.
Prior to joining Beam, he held senior roles at Cadbury and Unilever.
The chairman's appointment will be followed by that of a new CEO to replace David Wild, and a new CFO, following the death of David Bauernfeind in December 2019. Shattock will lead the processes to identify both these individuals.
Ian Bull, interim chairman, said: "This is an important moment in the turnaround of Domino's, and I am delighted to have secured a chairman of Matt's calibre. During what has been an extremely rigorous search process led by Usman and I, we have been clear that we need world class leaders to take Domino's to the next level and fulfil its enormous potential.
"In Matt we believe we have found a chairman who absolutely fits this description. He has extensive and highly relevant experience in the consumer sector, including B2B and B2C relationships, which will be crucial as Domino's seeks to rebuild relationships with its franchisees and return to profitable growth."
Shattock added: "I couldn't be more excited to be joining Domino's as chairman. This is a good business today but with its powerful brand and some of the best franchisees in the world, it has the potential to be an outstanding business.
"My priorities will be building the new executive leadership, while also getting out to know the business, meeting colleagues and engaging with our franchisees to build a constructive relationship. I firmly believe that by working together we can build an exciting and profitable future for our people, our franchisees and our shareholders."
On the markets this morning, the FTSE 100 has begun its recovery from yesterday's crash, rising 2.7% so far this morning back to 6,128.8pts.
Early risers include Domino's Pizza Group, up 5.7% to 300.8p, McColl's (MCLS), up 5.6% to 25.5p and SSP Group (SSPG), up 4.8% to 441p.
This morning's weaker performers include Coca-Cola HBC (CCH), down 0.5% to 2,216p, Reckitt Benckiser (RB), down 0.2% to 5,727p and Kerry Group (KYGA), down .1% to €108.70.
Yesterday in the City
The FTSE 100 experienced its fifth biggest one day collapse in history yesterday as mounting fears over the spread of the coronavirus and plunging global oil prices sent global shares into a tailspin.
The index fell 7.7% to 5,965.7pts in a plunge that was only more severe during the UK stock market crash of 1987 and the global financial crash in October 2008.
Major FTSE 100 fallers included Coca Cola HBC (CCH), which fell 9.9% back to 2,226p, Compass Group (CPG), down 6.7% to 1,477p, Imperial Brand (UMB), down 5.2% to 1,556.4p, Diageo (DGE), down 4.5% to 2,616p and Associated British Foods (ABF), down 4.4% to 2,057p.
In the wider market, fallers included Marks & Spencer (MKS), down 11.4% to 136.6p, FeverTree (FEVR), down 8.7% to 1,129.5p, SSP Group (SSPG), down 8.5% to 421p, PZ Cussons (PZC), down 7.4% to 169p, Premier Foods (PFD), down 7.2% to 28.3p, Greencore (GNC), down 7.1% to 182.9p and WH Smith (SMWH), down 6.8% to 1,659p.
Notably the listed supermarkets escaped the worst of the carnage. Tesco (TSCO) ended the day flat at 240.5p after announcing the £8bn sale of its Asian operations, while Sainsbury's (SBRY) was down 2.5% to 204.8p and Morrisons (MRW) fell 2.5% to 180.8p.
The day's small handful of risers included Nichols (NICL), up 9.8% to 1,350p, Dimono's Pizza Group, up 0.3% to 283.7p and McBride (MCB), up 0.2% to 67.7p.