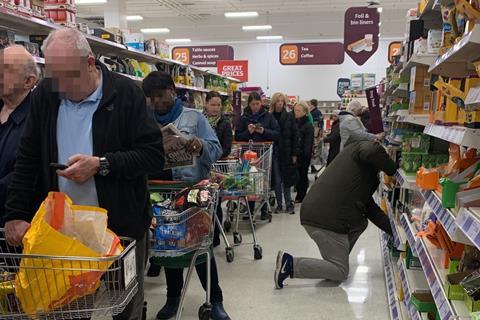 Top story
British take-home grocery sales surged by 17.2% over the past four weeks to take 12-week grocery growth to its highest level since records began.
Grocery sales jumped by 14.3% over the 12 weeks to 17 May, according to Kantar, which is the fastest rate since comparable records began in 1994.
In the latest four weeks to 17 May, take-home grocery sales growth accelerated to 17.2% year on year as sales were further boosted by the Government announcing the first stage of easing lockdown restrictions.
Shoppers visited the supermarket 3.5 times per week on average, meaning 100 million fewer trips overall than the same month last year, and increased their spend each trip to £27.41 – nearly 50% more than they did during normal times.
Fraser McKevitt, head of retail and consumer insight at Kantar, comments: "The most recent three-month period now includes both the pre-lockdown rush to the shops in March, and eight weeks of stay-at-home advice from Government – a combination which has resulted in the fastest growth in take-home grocery sales for over 25 years.
"While these are bumper figures, it remains true that the overall picture for some grocers will be less positive, as supermarkets continue to feel the impact of a considerable reduction in on-the-go spend on meals, drinks and snacks. Those categories usually add up to £1bn over the course of 12 weeks and they aren't included in these numbers."
Some of this increased grocery spend has been directed online, and shoppers trying to make use of delivery services when they can have increased digital sales by 75%, with online grocery accounting for 11.5% of all grocery sales.
Meanwhile, the number of people visiting bricks-and-mortar shops began to increase slightly in the week leading up to 17 May, following the relaxation of some measures by Government on the previous Sunday. Thursday 7 May, the day before the Friday Bank Holiday to mark 75 years since VE Day, was the biggest shopping day of the month and £488m was spent on take-home groceries.
Amongst the bog four supermarkets, Tesco grew by the largest proportion over the past 12 weeks with sales up 12.7%, ahead of Sainsbury's at 12.5%.
Morrisons sales rose 9.8% and Asda was up 6.5%.
That meant two of the big four grew at a faster rate than Aldi, which was up 10.4% over the period. Lidl was up 16.5%.
The boom in convenience sales once again saw Co-op as the fastest growing physical grocer, with sales up 30.8%, followed by Iceland at 28.6%. Wider symbols and independents surged 63.1% in the period.
Ocado's sales jumped 32.5% in the 12-week period.
Meanwhile, Nielsen found that total till sales in the last four weeks were up 13% year on year for the last four weeks ending 16th May
Online share of sales accounted for 13% of all grocery spend in the UK, totalling £1.2bn in sales. This is up from 7% at the same time last year and the 10% share recorded just four weeks ago, and is the highest figure for UK grocery spend online to date.
Nielsen data shows that 7.9m UK households placed an online grocery order in the last four weeks ending 16th May, up from 4.8m during the same period last year, with 1.1m of these being new online shoppers in the last month.
In terms of the last twelve weeks, which covers pre-lockdown and the full lockdown period, Iceland's growth (+23.7%) is well ahead of the pack, with the Co-op (+17.6%) also gaining market share. Growth at major supermarkets ranged from 6% growth at Asda to 12% growth at Tesco. The slowest growth came through from M&S (3%), impacted by the closure of their non-food stores.
Mike Watkins, Nielsen's UK Head of Retailer and Business Insight, said: "Following over eight weeks in lockdown, UK shoppers are more accustomed to restricted living, and have adapted their grocery shopping habits to match. The extreme category growth experienced at the beginning of lockdown has started to ease as consumers become more confident in product availability. Online has been a clear winner over the lockdown period, as shoppers take advantage of retailers' increased delivery capacity."
"With social distancing continuing to be a way of life for the foreseeable future, online shopping will continue and shoppers will begin to add more discretionary treats and indulgences back into the weekly shop.
"We'll also continue to see an increase in basket sizes, as consumers focus on cooking their own meals whilst pubs and restaurants remain closed. More meals cooked at home will also boost grocery spend across major categories including frozen, fresh and chilled foods. The warm weather may even increase spend further as shoppers buy additional food and drink items, and households make the move to alfresco dining and treating themselves."
Morning update
Britvic has posted a rise in first half sales and profits as it reports a "robust" start to its second half as said it is "well-placed to navigate the challenges of Covid-19".
The Robinsons maker said it started the year with strong momentum, reporting on the 31 January that Q1 revenue was 2.6% ahead of last year.
However, during the second quarter the Covid-19 epidemic started to have an impact across its business units, most significantly in the GB and Ireland markets, where its has a strong presence in the out-of-home sector.
Despite this impact, we have reported a first half revenue increase of 1.4% and adjusted EBIT growth of 9.4% to £75.7m with adjusted EBIT margin increasing by 80bps.
In the UK Pepsi achieved strong growth, with GB market value increasing by £31m to break through and increase beyond £300m of retail sales value.
The relaunched Tango, with new flavours, pack design and a new TV campaign, continued to deliver strong growth this year. Revenue increased nearly 18% and we gained further market share. Likewise, 7UP, led by the sugar free variant, also grew revenue by over 11% and gained market share.
Fruit Shoot performance in GB had improved before the Covid-19 crisis, but the lockdown has had an adverse impact on Fruit Shoot sales as it consumed out-of-home as well as at home.
Both J2O and premium brands, London Essence Company and Mathieu Teisseire, which are also on-trade focused, have been particularly disrupted by the impact of Covid-19.
Britvic said the estimated adjusted EBIT impact of Covid-19 modelling in 2020 remains unchanged at £12m to £18m per month.
However, it stressed that it entered this period "from a position of strength with a solid balance sheet and trading momentum".
CEO Simon Litherland commented: "The world is a very different place from the one it was a few months ago and I am proud and humbled by the resilience and dedication shown by the entire Britvic team. Our priorities throughout the Covid-19 pandemic have been clear: protect our employees, deliver for our customers, support our communities and maintain our financial strength.
"We entered the Covid-19 crisis with strong momentum, having delivered a robust first half performance, which continues our track record of consistent delivery since 2013. As a business and as a team, we have repeatedly demonstrated our agility as well as our ability to successfully navigate tough headwinds.
"While these times are clearly unparalleled, soft drinks has proven itself to be a resilient category time and time again. As consumers increasingly turn to trusted brands, we are confident that our long-term strategy will continue to create value for all our stakeholders."
Elsewhere, property investor Supermarket Income REIT has announces the formation of a 50:50 joint venture with British Airways Pension Trustees Limited to acquire from British Land Plc a 25.5% stake in one of the UK's largest portfolios of supermarket properties for £102m.
The Company's contribution to the JV is £51m, excluding costs which will be satisfied from its existing cash balances and credit facilities.
The Portfolio consists of 26 Sainsbury's supermarkets. The company said it is "a geographically diverse high-quality portfolio of stores with a London and south east bias".
It was created through two sale and leaseback transactions by Sainsbury's in 2000. Following this transaction, the freeholds of the properties are now owned by Sainsbury's (49%), Aviva (25.5%) and the JV (25.5%).
The Portfolio is funded by bonds, which mature in 2023.
Supermarket Income Reit said the portfolio will give it an interest in "a large freehold high quality portfolio of predominantly omnichannel supermarkets with strong property fundamentals".
The board is targeting annualised net asset value growth from the investment in excess of the Company's targeted annualised total shareholder return of 7-10%.
The acquisition also gives the JV the opportunity to increase its holding in the portfolio at the appropriate time.
Nick Hewson, chairman of Supermarket Income REIT, commented: "Our investment in this Sainsbury's property portfolio gives us an interest which we believe will be highly NAV accretive over the next three years. We will work closely with the co-owners, Sainsbury's and Aviva, to extend the leases and find a solution to the longer term ownership of the properties."
Yesterday in the City
The FTSE 100 recovered another 1.2% yesterday to end trading at 6,067.7pts.
The imminent reopening of the UK high street boosted general retail shares, with Associated British Foods up 8.6% to 1,824p as it prepares to reopen its Primark stores and Marks & Spencer up 6.1% to 100.3p.
Also on the rise were FeverTree, up 5.3% to 1,911p, Kerry Group, up 3.8% to 105.4p, Britvic, up 3.6% to 720.5p and McColl's, up 3.2% to 45.2p.
Yesterday's fallers included PZ Cussons, down 2.1% to 175.2p, Reckitt Benckiser, down 1.9% to 6,996p, McBride, down 1.6% to 60p, Morrisons, down 1.5% to 179.1p and Tesco, down 1.3% to 224.3p.