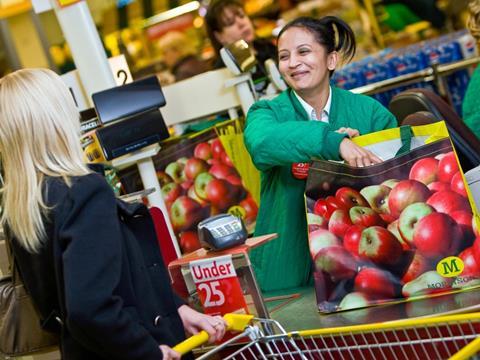 The latest grocery market share figures released this morning shows the late Easter this year has held back supermarket sales as food inflation continues to rise.
Market share figures from Kantar Worldpanel for the 12 weeks ending 26 March 2017, show supermarket sales increased in value by 1.4% compared to the same time last year. It said slower growth was primarily due to Easter falling outside the latest 12 weeks.
Fraser McKevitt, head of retail and consumer insight at Kantar Worldpanel, said: "Despite rising prices, we've seen shoppers' minds turn to healthy eating after the excess of the festive period and before the temptation of Easter.
"Meanwhile inflation shows no signs of abating. The price of everyday goods is up by 2.3% compared to this time last year, and rising prices cost the average household an additional £21.31 during the past 12 weeks.
Both Lidl and Aldi reached new record high market shares during the past 12 weeks, now accounting collectively for 11.7% of the grocery market. Sales growth of 15% made Lidl the fastest growing retailer, while Aldi grew sales by 14.3%.
Morrisons grew sales by 0.3% over the 12-week period, but Tesco (-0.4%), Sainsbury's (-0.7%) and Asda (-1.8%) saw sales fall back during the period.
Nielsen found overall, year-on-year takings at supermarket tills during the four weeks ending 25 March fell -2.6% as the timing of Easter particularly hit sales over the past month.
Over the 12 week period Nielsen also found Morrisons was the only one of the big four to see an annual sales rise (up 0.6%), with Asda slumping 3%, and Tesco and Sainsbury's down 1.1%% and 1.7% respectively.
Aldi and Lidl were up 12.6% and 10.5% respectively, while outside the discounters Iceland was the best performer (up 5.2%), followed by Marks & Spencer (+2.6) and the Co-operative (+1.2%).
Mike Watkins, Nielsen's UK head of retailer and business insight commented: "Looking ahead, supermarket growth will come from exploiting the "little and often" shopping trend , product innovation including private label and food to go, as well as maximising sales during seasonal events such as Easter."
"Supermarkets are well placed to fulfil these mission-based shopping trips and increase total store spend through different and larger store formats which highlight the breadth of range not available at a discounter. This is particularly important with many retailers reviewing business models in light of the shift to omni-channel retailing."
Nielsen also found the proportion of consumer spend at UK supermarkets that goes on items on promotion has hit its lowest level in 11 years.
In the four weeks ending 25 March 2017, just over a quarter (26%) of spend at UK supermarkets went on products with temporary price cuts or multi-buy offers, the lowest level since 2006 (also 26%).
The reduction in promotional spend is happening across all categories but is much faster in supermarket's own or private label spend (just 18% of sales in the last year went on promotional spend) than among sales of branded goods (41%).
Kantar also found the proportion of spending on promotions now stands at just 32.9% – 5.5 percentage points lower than last year.
McKevitt added: "Offers are becoming a less significant option for shoppers looking to save money. Already taking market share from their branded rivals – and up nearly 5% during the past 12 weeks – own label lines could be among the main beneficiaries of inflationary pressure."
Morning update
Northern Irish crisp manufacturer Tayto Group has acquired Leeds-based vending machine company Freedom Refreshments in a "multi-million pound" deal.
The deal, which is Tayto's first in the vending solutions space, includes Freedom Refreshment's subsidiaries, LTT Vending, eXpresso PLUS and NIVO, and offers access to almost 7,000 vending machines across England.
Freedom Refreshments turns over around £16m a year and provides hot and cold drinks and snacks across sectors, including healthcare, workplace, education and retail
Paul Allen, chief executive of the Montagu Group, which has been established as a sister company to run the vending arm of Tayto's business, explains: "The acquisition of Freedom Refreshments is a key facet of our strategic development programme.
"While we have a strong share of the vending market in Northern Ireland, we only had limited reach into GB and this deal will enable us to increase our presence significantly within this sector. The people at Freedom are experts at what they do, continually developing their brand and subsidiaries through both organic growth and acquisitions."
The acquisition of Freedom Refreshments closely follows its recent purchase of London-based Tavern Snacks and a majority acquisition of Devon-based Portlebay Popcorn.
Mark Stone, who has been appointed as CEO of Freedom Refreshments, added: "The vending machines will carry Tayto Group products, where appropriate, but their contents will be driven by consumer demand and will also include an extensive range of hot and cold drinks as well as confectionery."
Elsewhere, Tesco has announced the appointment of Guillaume Bacuvier from Google as CEO of its data arm Dunnhumby.
He is currently the vice president of advertising solutions at Google and has held a number of roles at Google since 2006. Prior to this he worked at Orange Group and he began his career as a senior project manager with Booz Allen Hamilton.
Tesco CEO Dave Lewis commented: "Guillaume brings significant international transformation experience and a deep understanding of data-led advertising solutions and of analytics and customer insights. Guillaume will join dunnhumby in May and will help steer the business during its next phase of growth."
On the markets this morning, the FTSE 100 has already clawed back yesterday's losses, rising 0.6% to 7,322.8pts.
Risers include Hotel Chocolat (HOTC), up 3.3% to 310p, Science in Sport (SIS), up 1.9% to 91.7p, Greencore (GNC), up 1.3% to 247.1p and Compass Group (CPG), up 1.1% to 1,524p.
Amongst the early fallers are Sainsbury's (SBRY) and Morrisons (MRW), down 0.5% to 261.0p and 0.7% to 236.1p respectively. Finsbury Food (FIF) is down 0.8% to 105.2p, Cranswick (CWK) down 0.6% to 2,550p and Associated British Foods (ABF), down 0.5% to 2,587.5p.
Yesterday in the City
News that Reckitt Benckiser (RB) is exploring the sell-off of its food division received a mixed reception in the City yesterday.
Reckitt's share initially rose by around 0.5% as investors absorbed news of the £2bn-plus sales process, but fell back through the day to end trading 0.4% down at 7256p.
The FTSE 100 started the week down 0.6% to 7,282.7pts as worries over Brexit persist amid weak UK manufacturing statistics released yesterday.
Booker (BOK) and Tesco (TSCO) both started the week on the back foot, with Booker down 1.2% at 193p and Tesco down 0.5% to 184.7p.
Morrisons (MRW) also fell 1% to 237.7p yesterday, while Sainsbury's (SBRY) was 0.4% down at 263.2p.
Other fallers included McBride (MCB), down 2.8% to 192.5p, Conviviality (CVR), down 1.9% to 267.3p, Devro (DVO), down 1.9% to 178.3p and Hilton Food Group (HFG), down 1.1% to 638.5p.
Premier Foods (PFD) jumped 3.4% yesterday back to 45.5p, PayPoint (PAY) rose 2.2% to 1,048p, AG Barr (BAG) was up 1.2% to 586p and B&M European Value Retail (BME) rose 0.9% to 302.1p.