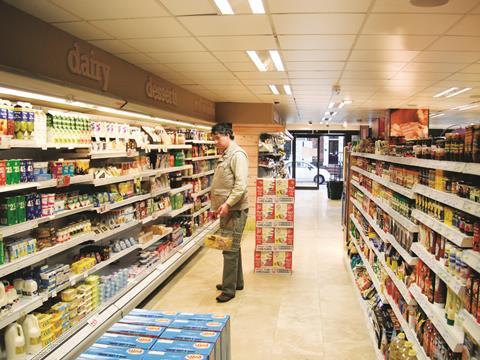 Top story
Shop prices fell by 1.6% in September as retailers cut prices to encourage spending and food price inflation continues to ease.
The BRC-Nielsen Shop Price Index for September showed shop prices fell by 1.6% during the month, a steady rate of decline as in August.
This figure is below the 12- month average price decrease of 1.1%, but above the 6-month average price decrease of 1.7%, respectively.
Non-food prices fell by 3.2% in September compared to a decline of 3.4% in August.
Meanwhile, food inflation eased to 1.2% in September, down from 1.3% in August and below the 12- and 6-month average price increases of 1.4%.
Fresh food inflation held at 0.2% in September, which is below the 12-month average price increases of 0.6% and is the lowest rate of increase since February 2017.
Ambient Food inflation slowed to 2.5% in September, down from 2.8% in August.
BRC CEO Helen Dickinson commented: "Consumers can celebrate yet another month of falling shop prices, particularly in the Non-Food ranges such as clothing and footwear. Retailers are cutting prices in order to encourage further spending where sales are yet to pick up. In addition, September saw the lowest rate of Fresh food inflation since 2017, which has been mostly driven by the continued availability of fresh, local food produce.
"Retailers strive to provide the best value, quality goods, but their ability to do so, come 2021, is under threat. Without a zero-tariff deal with the EU, supermarkets will be subjected to £3.1 billion a year of tariffs on food and drink, which they will have little choice but to pass on to their customers as retail margins are so thin.
"Many non-food retailers will also face large tariff bills, and as a result, the total cost to the industry and its customers would be much higher. The Government must prioritise a tariff-free deal, otherwise hard-pressed consumers will bear the brunt of price increases."
Mike Watkins, head of retailer and business insight at Nielsen, added: "The recessionary impact of the pandemic on retailing will become more visible during the `golden quarter` and retailers are already adapting their business models.
"Food shop price inflation has slowed with supermarkets introducing new price cuts this month and non food retailers had the additional challenge of selling through seasonal stock, disrupted by unpredictable weather. Looking ahead we can expect shop price inflation to remain at current low levels for the next quarter."
Morning update
Catering giant Compass Group's performance improved towards the end of its financial year, but organic revenues remain down 36% in its fourth quarter.
Updating the market following the close of its financial year on 30 September, Compass Group said its organic revenue decline improved from a 44% drop in the third quarter to a 36% plunge in its fourth quarter.
North American revenues improved from a 45% to a 38% drop, while Europe was more improved from a 53% fall to 39% in the fourth quarter.
Total annual organic revenues will be down 19% for the full year period.
Compass Group said performance is improving as clients in education and business & industry began to return to schools and offices in its main markets.
The reopening of units and initial increase in volumes, combined with positive contract renegotiations and a relentless focus on efficiencies are expected to improve the group's fourth quarter operating margin to breakeven, before any contract impairments.
The group said it was "pleased with our progress" in the quarter and that the business is now at breakeven at a trading level.
"We continue to proactively manage the business, reducing our costs, rebuilding our margins and investing to strengthen our competitive advantages," it stated. "However, the pace at which our revenues and margins will recover remains unclear, especially given the possible increase in lockdown measures in the Northern Hemisphere through the winter months."
"Despite the current challenges, when looking further ahead, we remain excited about the significant structural market opportunity globally, and the return to organic revenue growth, margin improvement and returns to shareholders over time."
It will provide a further update on trading at its full year results on 24 November 2020.
Elsewhere, property giant Hammerson has announced the appointment of Rita-Rose Gagné as Chief Executive Officer.
Gagné was most recently president of growth markets at the global real estate company Ivanhoé Cambridge where she had responsibility for $7.6bn of real estate assets across Asia Pacific and Latin America.
During her career, she has worked in property markets across the world, including the UK, France and Germany, and her expertise spans across various asset classes and mixed-use assets, including residential, retail, office and logistics.
It is anticipated that she will take up her new role with Hammerson before the end of the year. David Atkins will continue to serve as CEO until Gagné joins the Company.
Chairman Robert Noel said: "She has an excellent track record in international real estate investment, building high-quality teams, developing strategic partnerships, execution and delivering results."
Rita-Rose Gagné added: "The retail and real estate sectors are going through a period of unprecedented change which makes this a very exciting time to be joining the business. I look forward to working with Hammerson's experienced team and all its stakeholders to both navigate through the challenges but also seek out the opportunities to create value moving forward."
Meanwhile, Land Securities CFO Martin Greenslade has announced his intention to step down from Landsec.
Greenslade will step down from his role as CFO during 2021 and will continue as CFO and as an executive director until his successor is appointed.
He said: "I joined Landsec in 2005 as CFO and have thoroughly enjoyed my time at the Company. It has been a privilege to lead and work with talented and dedicated individuals throughout the organisation for so long. I have enjoyed working with Mark since he joined in April and I support his vision for Landsec. However, I feel that now is the right time for me to step aside and let someone else take my role to help deliver the next phase of Landsec's journey."
Mark Allan, CEO, said: "Martin's experience through the global financial crisis and his subsequent work to put the Group on a firmer financial footing, at the same time as reshaping the business, has clearly been beneficial in the face of the current Covid threat. I have appreciated his counsel and advice since I joined in April and I speak on behalf of the Board when I thank him for his commitment to Landsec as a Director over the past 15 years. I wish him well for the future."
On the markets this morning, the FTSE 100 has fallen another 0.1% to 5,889.7pts so far this morning.
Early risers include McColl's Retail Group, up 2.1% to 24.3p, AG Barr, up 1.9% to 457.5p, Bakkavor, up 1.6% to 66.1p and Greggs, up 1.5% to 1,136.5p.
Fallers so far today include PayPoint, down 13.5% to 526p after it received an objections from Office of Gas and Electricity Markets over the terms of its exclusivity partnership for payments with UK energy firms.
Also falling were SSP Group, down 5% to 176p and Compass Group, down 4.8% to 1,150.5p.
Yesterday in the City
The FTSE 100 ended the day down 0.5% to 5,897.5pts yesterday.
As concerns over rising cases of coronavirus in the UK mount, those companies reliant on eating out and food to go were hit hard again.
Greggs announced that its sales remained down by around 25% over the summer and into September, leading to a share price slump of 8.1% to 1,120p.
Travel food specialist SSP Group fell 9.2% to 186.1p, Greencore dropped 5% to 100p, WH Smith was down 4.1% to 960.5p, M&S fell 3.3% to 96.3p and C&C Group dropped 2.6% to 192.8p.
Also falling were McColl's Retail Group, down 8.5% to 23.8p and Sainsbury's, down 3% to 192.9p.
B&M European Value Retail defied the wider market falls, rising 4% to 510.2p after upgrading its profit expectations and restarting its store opening programme.
Other risers included Pets at Home, up 3.9% to 411p, FeverTree, up 1.7% to 2,328p, Cranswick, up 1.5% to 3,650p and Ocado, up 1.4% to 2,895p.