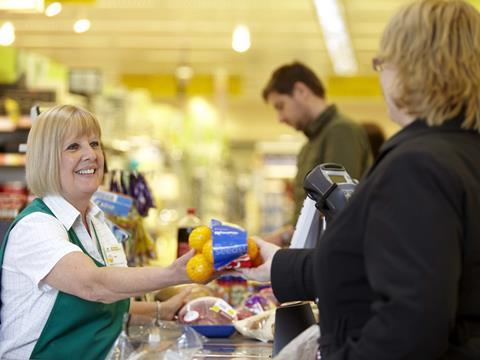 Top story
UK retail sales rose 1.3% on a like-for-like basis in August according to the latest BRC-KPMG Retail Sales Monitor, driven by rising food sales as the industry shrugged off wet summer weather.
The 1.3% like-for-like increase was an improvement on the 0.9% industry decline posted in August 2016.
On a total basis sales were up 2.4% against a decline of 0.3% in August 2016. The 2.4% sales boost is the strongest rise since Easter and above the 12-month average of 1.6%.
Over the three months to August food sales were up 1.8% on a like-for-like basis and 3.2% on a total basis. Non-food sales increased 0.6% on a like-for-like basis and by 0.9% in total.
In-store sales declined 1.4% on a total basis in the three month period and by 1.9% on a like-for-like basis.
Helen Dickinson, chief executive of the British Retail Consortium commented: "August provided a welcome pick-up in retail sales across channels, with non-food returning to growth as shoppers' attentions turned to homewares, autumn clothing ranges and the new school term.
"However, these figures tell a less positive story about the health of consumer spending than it might seem at first glance. Non-food sales have only just recovered to levels seen two years ago, after a dismal August in 2016; while strong figures for food are largely the result of rising prices, leaving growth in volume terms weaker than last year."
"Stark challenges lurk around the corner for the retail industry. Purchasing decisions are very much dictated by a shrinking pool of discretionary consumer spend, with the amount of money in people's pockets set to be dented by inflation and statutory rises in employee pension contributions in a few months' time."
Don Williams, retail partner at KPMG said: "Despite the ongoing challenges for the industry, retailers achieved reasonable growth in August, which is positive news for the industry. Even non-food categories experienced an uptick – a welcome relief given the poor performance recently.
"Retailers have managed to achieve stronger than expected growth, however adding to this could be the fact that consumers appear to be turning a blind eye to the potential crush on spending power to come. The industry now needs to overcome further devaluation of the pound and the increased costs therein."
IGD chief executive Joanne Denney-Finch added: ""Food and grocery turned in another steady sales performance through August, despite the disappointing weather and the annual summer getaway.
"Shopper confidence has been building. 23% expect to be financially better off over the next 12 months, compared with 20% in the election month of June, and 17% intend to focus more on quality in their grocery shopping rather than saving money, the highest level since last September."
Morning update
It's a quiet morning on the markets today, with no industry updates of note.
The FTSE 100 has clawed back most of yesterday's losses, rising 0.3% back to 7,431.9pts.
Early rises today include Hotel Chocolat (HOTC), back up 3.2% to 307.5p after yesterday's falls, Ocado (OCDO) similarly recoverying 1.7% to 306.5p and Marks & Spencer (MKS), up 1.7% to 326.2p.
The morning's fallers include Finsbury Food Group (FIF), down 1.2% to 105.2p, Reckitt Benckiser (RB), down 1.2% to 7,203p and SSP Group (SSPG), down 0.9% to 551p.
Yesterday in the City
The FTSE 100 eased back 0.4% to 7,411.5pts yesterday as worries over the geopolitical situation in South East Asia hit markets around the world.
One name to defy the gloom yesterday was household goods supplier McBride (MCB), which jumped 4.5% to 184.5p after announcing it had agreed to buy Danish company Danlind for an initial cash sum of £10.8m.
Another company on the acquisition hunt yesterday was C&C Group (CCR), which announced it had bought 47% of pub group Admiral as part of a wider deal to take over the company. However, its shares eased back 0.2% to €3.03 in London yesterday.
Elsewhere, risers included Majestic Wine (WINE), up 1.6% to 322p, PureCircle (PURE), up 1.5% to 420p, PayPoint (PAY), up 1.4% to 933p and Tesco (TSCO), up 1.2% despite the falling market to 185.4p.
The day's fallers included Hotel Chocolat Group (HOTC), down 5.4% to 298p, McColl's (MCLS), down 3.4% to 285p and Gusbourne (GUS), down 3% to 48p.
Of the sector's larger companies, Reckitt Benckiser fell 1.2% to 7,290p after the departure of a raft of senior staff, Ocado (OCDO) slipped 1.1% to 301.4p after a good recent run, Britvic (BVIC) fell 1.1% to 757p, Tate & Lyle (TATE) dropped 0.9% to 674p and Sainsbury's (SBRY), was down 0.9% to 234.1p.