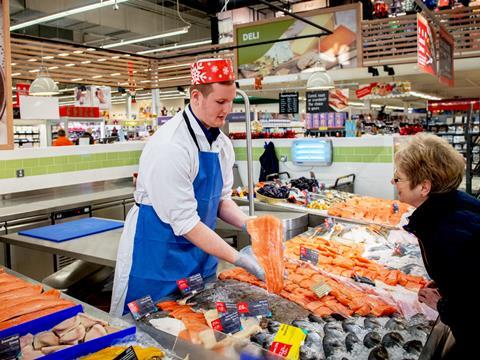 Top story
Supermarket price inflation remained at its four-year high of 2.4% last month, with Tesco recording the largest increase in year-on-year prices.
The GPI, collated by Brand View from over 60,000 individual supermarket SKUs, remained at 2.4% in the month to 1 September - matching the level of inflation from the month to 1 August, which was the highest month of supermarket price rises since September 2013.
Month-on-month prices edged up a further 0.2%, extending last month's two-year high for overall indexed grocery prices.
Meat, fish & poultry remains the primary driver, with the category now up 4.7% year on year.
Despite the rising measure of headline inflation, three of the big four recorded annual inflation in a tight band well below the overall 2.4% rate. Asda had the lowest level of overall price increase at 1.6%, followed by Sainsbury's at 1.7% and Morrisons at 1.8%.
Tesco proved to be the industry outlier, with its annual inflation reaching 3.7% - the supermarket's highest rate of yearly price increases since the month to 1 April 2012.
Morning update
Pub and brewing group Greene King (GNK) has warned investors it is cautious over the trading environment and the "challenges of weaker consumer confidence, increased costs and increasing competition".
Updating the market ahead of its AGM today, Greene King said in the 18 weeks to 03 September pub company like-for-like sales were down 1.2%, against a market which declined 0.7%. In the first ten weeks, LFL sales were in line with expectations, however, since the second half of July, when the weather worsened, trading weakened.
It said most of the LFL sales decline can be attributed to value food, "although more recently we saw some softening across other segments".
It stated: "We are continuing to address the challenges of the value food sector through measured capital investment to upgrade and reposition pubs and through selective disposals.
In its Brewing & Brands division, own-brewed volume was down 0.5% against a UK ale market down 2.9% and a cask ale market down 7%Gr.
Greene King stated: "We remain cautious about the trading environment and expect the challenges of weaker consumer confidence, increased costs and increasing competition to persist over the near term. In the longer term, utilising the benefits of the Spirit acquisition, our brand conversion and cost saving programmes, our robust balance sheet and our strong cash generation will be important levers to help deliver competitive advantage, growth and attractive and sustainable dividends for our shareholders."
The shares have plunged 14.2% to 561.5p in early trading on the news.
In this week's edition of The Grocer: a descendant of the founder of Cadbury is launching a £100,000 crowdfunding campaign to his luxury Love Cocoa brand, Typhoo faces second year of decline in flagging black tea and Asda escapes a fine by the Groceries Code Adjudicator despite its Project Renewal breaching the GSCOP code of conduct.
See thegrocer.co.uk later this morning for those stories.
Diageo has signed an agreement with investment bank Morgan Stanley to enact the £1.5bn share buy-back programme it announced in July 2017.
This agreement will commence 8 September 2017 and is expected to end no later than 31 March 2018 for an aggregate maximum consideration of up to £1.5 billion.
The purpose of the buy-back programme is to reduce the share capital of Diageo. The group has existing general authority from shareholders to repurchase up to a maximum of 251,781,000 shares granted at its 2016 annual general meeting. A renewed general authority to repurchase up to a maximum of 251,773,000 shares is being sought at Diageo's forthcoming annual general meeting on 20 September 2017.
On the markets this morning, the FTSE 100 has eased back 0.3% to 7,378.7pts.
Early risers include Hotel Chocolat (HOTC), up 3% to 295p, Premier Foods (PFD), up 1.4% to 41.9p, Majestic Wine (WINE), up 1.2% to 320.9p and Worldpay Group (WPG), up 1% to 415.6p.
Greene King's pub sector contemporaries are all suffering this morning.
Marston's (MARS) is down 6.2% to 106.5p, J D Wetherspoon (JDW) is down 2.7% to 1,024p and Whitbread (WTB) is down 1.7% to 3,727p.
Other early fallers include Marks & Spencer (MKS), down 2.1% to 320.5p, WH Smith (SMWH), down 2.1% to 1,869p, Cranswick (CWK), down 1.4% to 2,957p and PZ Cussons (PZC), down 1.2% to 339.5p.
Yesterday in the City
Tobacco firm Imperial Brands (IMB) led the FTSE upwards yesterday as the UK index jumped 0.6% to 7,397pts.
Imperial itself jumped 2.8% to 3,330p after announcing it had raised £230.8m from a sell-down of its holding in distribution company Logista and that it was delivering a stronger second-half performance.
Sector contemporary British American Tobacco (BATS) also rose 1.9% to 4,903.5p.
McBride (MCB), which was boosted on Monday by its acquisition of Denmark's Danlind, rose a further 0.8% to 195.25p after it announced a 5.9% drop in revenues, but improving profits.
Other risers included Just Eat (JE), up 2.2% to 696p, Britvic (BVIC), up 1.4% to 767p, Wh Smith (SMWH), up 1.2% to 1,910p and Premier Foods (PFD), up 1.8% to 41.5p.
Unilever (ULVR) rose 0.7% to 4,530p after news broke it had agreed to acquire UK tea supplier Pukka Herbs.
Fallers included CARR's Group (CARR), down 2.2% to 146.5p, Greene King (GNK), down 1.1% to 659p, FeverTree Drinks (FEVR), down 0.9% t0 2,425p and Conviviality (CVR), down 0.8% to 412.8p.