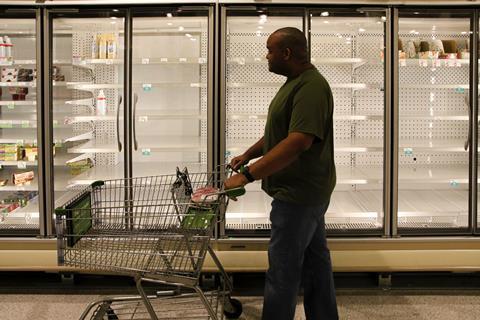 Top story
UK retail sales have plunged sharply in March as the coronavirus crisis and resulting nationwide lockdown led to the worst drop on record.
On a total basis retail sales declined 4.3% in the five weeks between 1 March and 4 April, with like-for-like sales down 3.5%, figures from the BRC-KPMG retail sales montior showed.
This marked a "historic drop" and the "worst decline" recorded since the monitor programme launched in January 1995.
Sales before and after the lockdown contrasted sharply, with the first three weeks of the month resulting in 12% growth on a total basis but the last two weeks dropping 27% as non-essential shops were shut.
Over the three months to March, food sales increased 4.9% on a like-for-like basis and 5.1% on a total basis, whereas in-store sales of non-food items dropped 13% and non-food retail sales were down 6.7%.
Online non-food sales however, rose 18.8% in March against a 2.5% increase the same month last year, as non-food online penetration jumped to 43.5% from 29.3%.
"In March, the necessary measures to fight the spread of coronavirus led to the worst decline in retail sales on record," said BRC CEO Helen Dickinson.
"Furthermore, the headline figure masked even more dramatic swings: food and essentials faced an unprecedented surge in demand in the early part of March, only to drop significantly into negative growth after the lockdown and introduction of social distancing in stores."
She noted that the closure of non essential shops led to a decline in sales which "even a rise in online shopping could not compensate for".
UK head of retail at KPMG Paul Martin warned "worse data is yet to emerge" as the lockdown only came into effect towards the end of the month.
"An uncertain future lies ahead and the industry's reset button has clearly been pressed. Smart retailers will already be thinking about what this means for the future, but the resilience of the sector cannot be underestimated," he added.
Morning update
Consumer products group PZ Cussons (PZC) has warned of the "significant" impact of the coronavirus outbreak on its business as it revealed a further drop in third quarter revenues.
The Imperial Leather owner said the COVID-19 virus is having a "very different across business unit and market".
In the UK, it has experienced "exceptionally high demand" for its Carex hand wash and sanitiser gel products and Imperial Leather soap.
"Our focus remains on sourcing, producing and distributing these," it stated. "Our team has shown exceptional ability to reconfigure products and supply chains rapidly, but we continue to face challenges in sourcing packaging and raw materials to enable us to fully meet demand."
However, its beauty business has been severely impacted. Its St Tropez brand has been hit hard by the social distancing measures in place in the UK, US and across Europe, with significant marketing activities planned for cancelled as it expects the brand will be slow to recover.
Other beauty brands have also been adversely impacted with the focus of retailers at this time on hygiene and personal care and the closure of hair salons.
In Asia, our Indonesian business has continued to trade largely as normal and the situation in its Nigeria market is "uncertain". The recent fall in the global oil price has led to further economic pressure, and all its Nigerian businesses are likely to be impacted by the significant disruption to both manufacturing and route to market.
It added that its key manufacturing sites across all regions remain open.
Overall in the third quarter to 29 February, PZ Cussons said revenues declined against last year, albeit at a reduced rate compared to the first half of the year.
Focus Brand revenue in Q3 grew compared to last year, driven by Cussons Baby, Morning Fresh, a return to growth for Carex and good performance of electricals
It said it entered current crisis with a strong balance sheet and has taken action to mitigate the impact of the virus, such as the cancellation of capital expenditure projects, the review of the cost base, particularly in those areas of the business most impacted by Covid-19 and working capital initiatives across the business.
Its full year profit guidance remains within consensus range despite the impact of coronavirus, albeit at the lower end.
PZ Cussons shares opened down 1.5% this morning at 177.2p on the news.
On the markets this morning, the FTSE 100 has recovered some of yesterday's losses, rising 0.7% to 5,639.2pts so far this morning.
Early risers include Glanbia (GLB), up 4.4% to €8.98, SSP Group (SSPG), up 3.2% to 282.6p, and Treatt, up 2.7% to 495p.
Fallers include Reckitt Benckiser (RB), down 2.4% to 6,168p, Ocado (OCDO), down 1.7% to 1,516p and Devro (DVO), down 1.5% to 142.2p.
Yesterday in the City
The FTSE 100 slumped 3.3% on Wednesday back to 5,597.7pts on worries over the depth of the global contraction the coronavirus crisis will cause.
Those most exposed to leisure and travel were again worst hit, with Mitchells & Butlers (MAB) down 13.3% yesterday to 174.8p, WH Smith (SMWH) dropping 9.2% back to 1,075p, Marston's (MARS) down 7.8% to 40.6p and SSP Group (SSPG), down 7.6% to 273.8p.
Also down were Marks & Spencer (MKS), down 7.1% to 99.2p, Applegreen (APGN), down 5.8% to 245p, Paypoint, down 5.6% to 553p, Associated British Foods (ABF), down 5.4% to 1,884p, Cranswick (CWK) down 5.3% to 3,508p and Greencore (GNC), down 5.1% to 159.3p.
CARR's Group (CARR) was one of the day's few strong risers, climbing 9.3% to 112p after posting a fall in first half profits and sales but insisting that the coronavirus was not having a material impact on its business.
Also on the up were Ocado (OCDO), up 3.9% to 1,542.5p, FeverTree (FEVR), up 3.9% to 1,284.5p, CAKE Box (CAKE), up 2.1% to 122p, Nichols (NICL), up 1.3% to 1,150p and Premier Foods (PFD), up 0.9% to 28.2p.