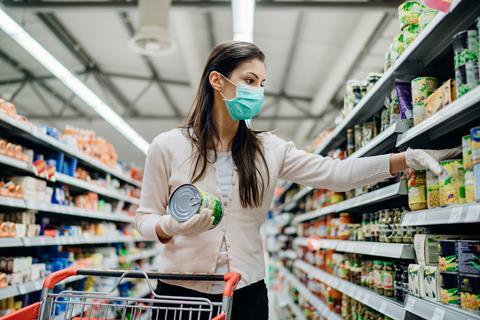 Top story
UK retail sales continued to recover in August, with sales up a further 0.8% in the fourth consecutive month of sector growth.
The 0.8% growth in sales volumes compared to UK retail sales in July has resulted in an increase of 4% compared with February's pre-pandemic levels.
Retail sales values increased by 0.7% when compared with July and 2.5% when compared with February.
However, there was a mixed picture within the different store types as non-store retailing volumes were 38.9% above February, while clothing stores were still 15.9% below February's pre-pandemic levels.
Spending for home improvements continued to rise in August as sales volumes within household goods stores increased by 9.9% when compared with February.
Online retail sales fell by 2.5% in August when compared with July, but the strong growth experienced over the pandemic has meant that sales were still 46.8% higher than February's pre-pandemic levels.
The ONS said visits to food retailers decreased during the month, with 51.5% reporting a decrease in footfall from 10 to 23 August, which was impacted by government efforts to get people back into restaurants.
The report stated: "The Eat Out to Help Out scheme encouraged many consumers to spend more money in food outlets, which may have reduced spending in supermarkets."
However, across all the sector only food stores and non-store retailing experienced stronger sales volume between January and August this year than during the same period in 2019.
Lynda Petherick, head of retail for Accenture UK and Ireland, commenting on the numbers said: "August's retail sales are further evidence that consumers were getting back to normal, as sales stabilised in the run up to the typically busy "back-to-school" period.
"However, a dark cloud still hangs over the sector which means the apparent rebound could prove to be a false dawn. The recent tightening of lockdown measures, both locally and nationally, will be a bitter pill to swallow for retailers, and could lead to a steep drop in consumer confidence in September."
Morning update
Forecourt retailer and motorway service station operator Applegreen has revealed a 26.6% slump in first half revenues due to the impact of coronavirus lockdown restrictions.
The company said it trading strongly and in line with management expectations for the first 10 weeks of 2020. However, footfall and volumes were severely impacted from mid-March as governments and customers took measures to contain the spread of the COVID-19 virus.
As a result, group revenues fell from €1.48bn to €1.08bn, while group adjusted EBITDA more than halved to €25.3m from €58.9m last year.
In particular its Welcome Break estate was impacted due to significantly reduced motorway traffic and the closure of most of its branded food offers from 23 March with a phased reopening from mid-May.
However, the majority of sites within the core Applegreen estate are located in communities in both towns and suburbs, with limited exposure to city centre locations. This meant its retail offer combined with positive fuel margins and tight cost management resulted in a "very strong performance" for this part of the business.
Adjusted EBITDA excluding Welcome Break was actually up 11% to €29.4m despite the restrictions.
Following a low point in April, overall sales volumes increased consistently as restrictions eased and people started to travel again.
April sales volumes for the group were 57% below the prior year but improved significantly to 29% below the prior year for the month of June 2020.
The third quarter has seen the positive momentum continue with the business trading ahead of management's expectations during the period – supported by staycations, government stimulus packages and the lifting of restrictions across its markets.
In July and August, the group continued to re-open its remaining food offers to meet increased demand. Welcome Break has seen food volumes recover to less than 20% off the prior year by early September.
Applegreen said the outlook for Q4 is "clouded by potential for additional public health measures". However it said: "We look forward to the future with growing confidence whilst cognisant of the risks that may still impact the business in the future."
CEO Bob Etchingham commented: "The first half of 2020 has been an unprecedented period due to the COVID-19 pandemic and I am immensely proud of the tremendous efforts of our people in supporting our customers and local communities throughout this challenging period.
"Applegreen carried good momentum from last year and traded strongly for the first ten weeks of the year, however, we saw a sudden and significant impact on the business from mid-March, particularly in our motorway service areas.
"Encouragingly, this recovery has continued over the summer months with the further lifting of restrictions, government stimulus packages and the staycation trend, all of which has improved traffic volumes. This performance further demonstrates the resilience of our business model and of our sector. We have learnt a lot during this crisis and are confident that we will emerge as a stronger organisation that is well positioned to benefit from future opportunities across all of our markets."
On the markets this morning, the FTSE 100 is down another 0.5% to 6,018.9pts.
Risers so far this morning include Science in Sport, up 6.3% to 37.2p, McColl's Retail Group, up 4.1% to 22.9p and McBride, up 3.6% to 62.6p.
The days fallers include SSP Group, down 3.7% to 194.9p, Compass Group, down 3.3% to 1,275.5p, Marston's, down 3% to 42.6p and Associated British Foods, down 1.9% to 1,931p.
Yesterday in the City
The FTSE 100 fell back 0.5% yesterday to 6,049.9pts as threats of a second UK coronavirus lockdown persist.
Ocado once more was amongst the sector's key risers, climbing a further 2.7% yesterday to 2,712p and taking its market cap well beyond £20bn.
Other risers yesterday included Sainsbury's, which was up 3.3% to 191.2p, Hotel Chocolat, up 2.6% to 382p, Premier Foods, up 1.8% to 87.4p, Bakkavor, up 1.6% to 65p and Cranswick, up 1.4% to 3,570p.
Fallers included Glanbia, down 4% to €8.44, Coca-Cola European Partners, down 3% to €37.17, Science in Sport, down 2.8% to 35p, McBride, down 2.6% to 60.5p, Associated British Foods, down 2.1% to 1,969p and Greencore, down 2.1% to 110p.