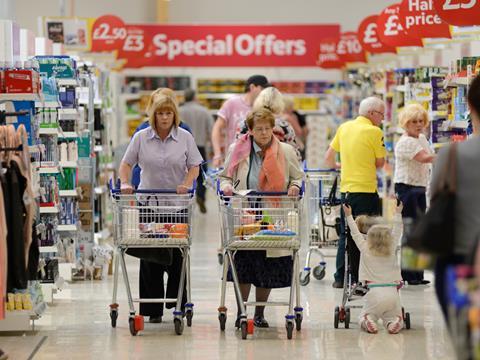 Top story
Retail footfall in April plunged by 3.3% year-on-year as the wet start to the month hit shopper numbers across the country.
The BRC- Springboard Footfall and Vacancies Monitor for April found that March and April footfall combined dropped by the largest proportion since the depths of the recession in 2009.
The 3.3% drop in April shopper numbers represented a significant decline compared to the positive rate of 1.6% seen in April 2017.
This drop was in line with the 3-month average of -3.5% and below the 12-month average of -1.8%.
There was no growth in Footfall for any UK region, now two months of consecutive decline.
Separately, the national town centre vacancy rate was 9.2% in April, up from 8.9 per cent in January 2018.
All regions saw an increase in the vacancy rate, except Greater London, where the rate dropped to 3.6% from 5.6% in January 2018.
BRC chief exec Helen Dickinson commented: "A wet start to April had a dampening effect on visits across the UK's shopping locations adding to the long term downward in footfall resulting from changing consumer behaviour. That shift in the way we shop, coupled with a highly challenging business environment, is having a significant impact on the nation's high streets: in April nearly 1 in 10 shops in town centres was vacant.
While these figures highlight the difficulties faced by retailers, they also point to the evolution of the industry. Retailers are embracing changing customer behaviour and adapting to a challenging environment by rebalancing investment in physical and digital infrastructure. Policy-makers can help support our industry and the re-making of our high streets by creating a progressive policy environment that allows retailers to adapt successfully."
Diane Wehrle, Springboard marketing and insights director said: "Much could be made of the adverse impact on April's footfall of Easter shifting to March, but even looking at March and April together - so smoothing this out - still demonstrates that footfall has plummeted.
"A -3.3% drop in April, following on from -6% in March, resulted in an unprecedented drop of -4.8% over the two months. Not since the depths of recession in 2009, has footfall over March and April declined to such a degree, and even then the drop was less severe at -3.8%."
Morning update
AIM-listed drinks and snacks machine provider Uvenco has announced it is looking to sell its assets after a continued decline in sales has put pressure on cash flows.
The company said that since its last public announced in September 2017 it has "experienced a continued gradual decline in revenues which, despite the implementation of a number of cost control measures, has resulted in negative cash flows".
The Company is now in discussions with a third party that may lead to the sale of its trading subsidiaries, Uvenco the vending operator, and Snack in the Box, the franchising operator.
It is expected that the purchaser would also assume a substantial proportion of the company's debt, meaning the sum received by the company will be minimal. Therefore, it is unlikely there will be any value for equity shareholders.
On the markets this morning, the FTSE 100 has opened the week down 0.1% to 7,716.1pts so far this morning.
Early risers include Compass Group (CPG), up 1.4% to 1,529p, PayPoint (PAY), up 1.3% to 871p, Applegreen (APGN), up 1.2% to 574p and McBride (MCB, up 1.1% to 131.4p.
Tobacco companies are amongst the early fallers, with British American Tobacco (BATS), down 1.3% to 3,811.5p and Imperial Brands (IMB), down 0.9% to 2,740.5p. Also falling are Marks & Spencer (MKS), down 1.5% to 299.9p and Kerry Group (KYGA), down 0.8% to €88.65.
The week in the City
The highlight of a quieter week looks to be US retail giant Walmart's (WMT) first quarter earnings release on Thursday, which will also update the market on the first quarter performance on Asda after the agreement to merge the supermarket with Sainsbury's (SBRY).
Elsewhere, Premier Foods (PFD) will issue its full-year results tomorrow. The supplier of branded food goods to UK supermarkets is one of those suppliers potentially under pressure from further supermarket consolidation and has been under pressure since rebuffing an approach from US food group McCormick in 2016.
Wednesday brings interim results from beer and cider group C&C Group (CCR), which recently rescued Matthew Clark and Bibendum from the collapse of Conviviality. Also on Wednesday, travel food specialist SSP Group will issue its first half results.
Thursday brings Fever-Tree's (FEVR) annual general meeting and a trading update.