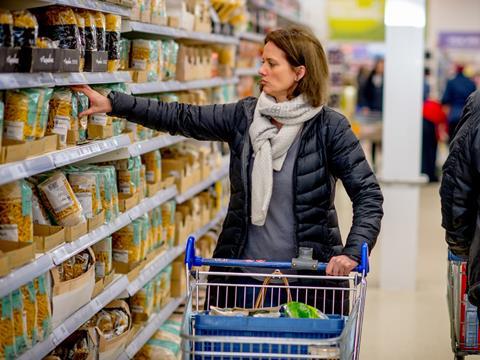 Retail sales were up 0.6% in February, according to the BRC/KPMG Retail Sales Monitor, with strong food sales wholly responsible for overall growth.
The four weeks to 24 February saw UK retail sales rise 0.6% on a like-for-like basis compared to the February 2017, when sales decreased by 0.4%.
Sales were up 1.6% on a total basis, up from total growth of 0.4% a year ago.
However, over the three months to February, in-store sales of non-food items declined 2.4% on a Total basis and 3.3% on a Like-for-like basis.
Instead, food sales increased 2.8% on a like-for-like basis over the same three month period and by 4% on a total basis.
This food sales growth is now in line with the 12-month total average growth of 3.9%, the highest since October 2012.
Including online sales, over the three-months to February non-Food retail sales in the UK decreased 1.1% on a like-for-like basis and 0.5% on a total basis.
Online penetration rate increased from 20.5% in February 2017 to 21.1% in February 2018.
British Retail Consortium chief exec Helen Dickinson commented: "The headwinds to retail spending continued to blow strong in February. Inflation is still eating into shoppers' budgets, pushing them to spend a greater share of their income on essentials and leaving less left over to buy discretionary, predominantly non-food, retail items. At the same time, weak growth in household earnings is keeping overall sales low.
"With the upward pressure on prices from the fall in the pound now starting to subside we expect to see some loosening of the squeeze on spending on non-essentials, but it's likely to come slowly. And so are anticipated increases in wage growth. Crucial for consumers and retailers over the coming months will be a successful outcome to trade negotiations, ensuring that amidst the current difficulties, they won't be facing further increases in costs from new tariffs on the everyday goods we import from the EU."
Paul Martin, head of retail at KPMG added: "On the high street, it was grocery sales that continued to pull it out of the bag. Meanwhile, Shrove Tuesday may have resulted in an uptick in cooking accessory sales, but performance in non-food in general was once again disappointing.
"The retail shakeout will gather further momentum in the coming months, and retailers with large physical store estates are particularly under pressure. Moreover, the cost of one of the coldest winters on record has yet to be factored in. It's not all doom and gloom though, a number of retailers are bucking the overall trend by focussing on a differentiated proposition whilst remaining relevant to the customer."
Joanne Denney-Finch, chief executive of IGD said: "February was another steady month for food and grocery sales and included the usual boost from Valentine's Day.
"The next big event is Easter and since warm conditions promote higher food and drink sales over that holiday weekend, retailers will be hoping for a transformation in the weather during March."