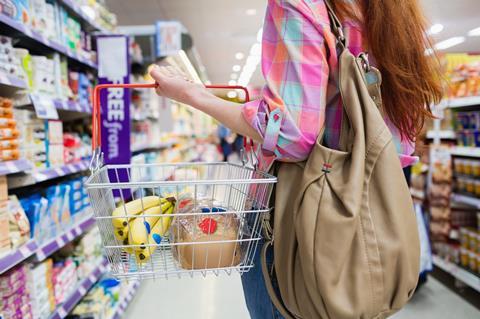 Food inflation hit its highest level since March 2019 in December, with fresh food seeing the largest rate of inflation in almost a decade and prices are set to rise further in 2022.
The BRC-NielsenIQ Shop Price Index for December showed overall retail inflation rising to 0.8% in December up from 0.3% in November.
However, food inflation is accelerating a lot more quickly than the rest of the retail sector, with food inflation up 2.4% in December from 1.1% in November.
This level of food inflation is the highest since March 2019 and is a marked acceleration on the 12- and 6-month average price growth rates of 0.3% and 0.6%, respectively.
Fresh food inflation accelerated significantly in December to 3.0%, up from 1.2% in November, which represented the highest level since April 2013.
Ambient food inflation accelerated to 1.7% in December, up from 0.9% in November, above the 12- and 6-month average price increases of 1.0% and 0.9%, respectively and the highest rate of increase since March 2021.
Non-Food deflation accelerated to 0.2% in December compared to the decline of 0.1% in November.
British Retail Consortium chief executive Helen Dickinson commented: "Consumers may have noticed that their Christmas shop became a little more expensive in December. Not only did prices rise, but did so at a faster rate, especially in food. Food prices were falling earlier on in 2021, but the acute labour shortages across supply chains, amongst other factors, led to the year ending with a notable increase; for example, fresh food saw the largest rate of inflation in almost a decade. Year-on-year non-food products were deflationary, but prices rose across the board on the previous month.
"The trajectory for consumer prices is very clear: they will continue to rise, and at a faster rate. Retailers can no longer absorb all the cost pressures arising from more expensive transportation, labour shortages, and rising commodity and global food prices. Consumers will already be harder pressed this year, with rising energy bills, the looming hike in national insurance, and more expensive mortgages. Government should relieve some of these costs by looking for long-term solutions for resolvable issues such as labour shortages."
Mike Watkins, NielsenIQ's head of retailer and business insight added: "After a challenging Christmas period, consumers are facing higher energy, travel and for some mortgage costs and the underlying price inflation in retail may only make it more difficult to entice shoppers to spend in January. But it is weak consumer confidence and uncertainty around the pandemic rather than shop price inflation which will have the biggest impact on demand at the start of the year".
Morning update
The FTSE 100 has started strongly on its first day of trading in 2022, rising 1.3% so far today to 7,477.5pts - a new post-Covid market high.
City newsflow is quiet this morning as the markets ramp up from the Christmas break.
Casual dining player Tasty has warned the market that its December trading was "considerably weaker than anticipated" as a result of rising Covid cases.
It said trading across the group for the second half of the year up until December 2021 was "extremely encouraging".
However, December, normally the company's strongest performing month, was "disappointing", especially given the level of the preceding few months' trading.
It said the rising infection rates of the Omicron Covid-19 variant and in particular the reinstatement of working from home advice by the UK Government, significantly reduced the number of customers eating out and specifically deterred the larger Christmas bookings.
"As a consequence, trading for the peak December trading period was considerably weaker than anticipated."
It is currently trading from 50 restaurants out of a total estate of 54. The 4 restaurants that have remained closed due to predicted poor trading conditions in their locality and labour shortages, should re-open later in the year however the company will continue to consider the sale of 2 or 3 of those restaurants.
"Despite the employment shortages, supply chain issues, Covid-19 related restrictions and a weaker Christmas, the Company has, nonetheless, adapted well and navigated its way through the difficulties faced," it stated.
"2022 will not be without its challenges as the company prepares for the end of Government support, in terms of reduced VAT and business rates. However, it is confident in its brands and optimistic about the trading potential of the group, especially with the strong revenue stream provided by takeaway and delivery services."
On the markets this morning, early risers include SSP Group, up 5.2% to 252.6p, WH Smith, up 4.6% to 1,548.4p and Marks & Spencer, up 4.3% to 241.3p.
Fallers include Naked Wines, down 3.8% to 626p, THG, down 2.2% to 224.2p and Deliveroo, down 1.5% to 206.6p.
This week in the City
The plethora of Christmas trading updates will begin to trickle in this week before arriving en masse next week.
As usual, clothing bellwether Next will be first out of the blocks with a festive trading update on Thursday alongside food-to-go stalwart Greggs.
In the US, Boots owner Walgreens, which has reportedly put its UK pharmacy chain up for sale, will update on its first quarter performance on Thursday.
Clues to the Christmas winners and losers in grocery will come tomorrow in the form of the monthly Kantar grocery market share figures for December.