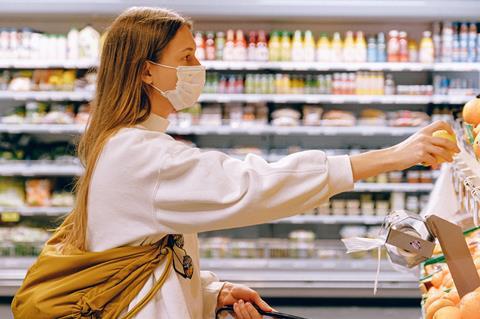 Top story
The past 12 weeks have continued to see strong grocery sales growth of 9.1%, according to Kantar, but sales growth slowed down in the past four weeks as households making a record low number of visits to supermarkets.
The latest grocery market share figures from Kantar for the 12 weeks ending 19 April 2020 show take home grocery sales grew by 9.1% in the 12 weeks to 19 April
Grocery sales were £524 million higher in the past four weeks than they were in April 2019, as British consumers adapted to life under lockdown.
However, households made a record low 14 trips to the supermarket during that time, but the drop in frequency was offset by average basket sizes which hit their highest levels ever
This meant, year-on-year grocery market growth of 5.5% over the past four weeks was noticeably slower than the 20.6% recorded in March.
Online sales now account for 10.2% of the grocery market, with older shoppers in particular taking to ecommerce by increasing their online grocery spend by 94% year on year
Convenience stores, including independents and those operated by major grocers, increased sales by 39% in the latest four weeks, accounting for 16.3% of the market.
However, Kantar warned that, while grocery sales are high, it remains a "challenging market" for retailers as social distancing restrictions and low footfall will have had a knock-on effect on non-grocery categories.
Sales of non-grocery items like clothes and food on the go are likely to have fallen, meaning it's still a "challenging time for retailers".
Fraser McKevitt, head of retail and consumer insight at Kantar, commented: "People are spending more time at home and eating fewer meals out of the house, which has led to a strong growth in take-home grocery sales. But social distancing also means that expenditure on other categories like clothes, food bought on the go and general merchandise will have been considerably lower, so for some retailers, the overall picture will be more modest."
"Retailers' efforts to increase their online capacity are clearly working, with shopper numbers up by a quarter. Online sales now account for 10.2% of overall grocery, versus 7.4% last month, with the greatest increase among older shoppers. Although not traditionally big users of e-commerce, over-65s spent 94% more on deliveries than they did a year ago."
All ten major supermarkets increased take home sales over the 12 week period as shoppers firstly stocked up in preparation for lockdown, then fell into their new routines. These increases will have been partly offset by the reduction in other sales, such as lunchtime and on-the-go snacking.
Co-op's market share rose to 6.7%, up from 6.1% last year as sales grew by 20.0%. Independent and symbol retailers, such as Spar and Londis, also benefited from changing shopping patterns, with growth of 40.5%. Meanwhile online specialist Ocado grew by 19.4%.
Spending at Sainsbury's was 8.4% higher than this time last year, and 7.2% higher at Tesco. Morrisons and Asda saw increases of 4.3% and 3.5% respectively. At Iceland sales rose by 16.6% and at Waitrose by 9.4%. Finally, Lidl sales increased by 14.8% and Aldi saw growth of 8.8%.
Kantar said grocery inflation now stands at 1.9% for the 12 week period ending 19 April 2020, with prices are rising fastest in markets such as sausages, bacon and lamb while falling in poultry, eggs and chocolate confectionery.
Morning update
Ocado (OCDO) has announced the launch of the first Ocado Customer Fulfilment Centre (CFC) in North America.
Empire's new online grocery home delivery service, Voilà by Sobeys, will begin testing orders today through its new CFC in Vaughan, Ontario. Voilà's phased rollout to customers across the wider Toronto area will begin when testing is successfully completed.
The site in Ontario is the second international Ocado CFC to go live since the beginning of March 2020.
Luke Jensen, CEO of Ocado Solutions, said: "This is a milestone moment for Ocado Solutions. Within almost a month, we have brought two international CFCs live and on-time with partners in Canada and France. These are testament to the amazing working partnerships we have developed, particularly under recent challenging circumstances with Covid-19."
"Of course, the current implications for the whole grocery retail sector of adapting to new and unprecedented demand also throw these launches into sharp relief."
"As Sobeys' first CFC builds capacity and extends to reach households across the Greater Toronto Area, it will be instrumental in bringing Ocado's world-beating quality of service to customers in Canada for the first time. Next stop in Canada is the CFC to launch in the province of Quebec and Ottawa area."
Sarah Joyce, Empire's SVP for Ecommerce, said: "As Ocado's exclusive Canadian partner, our robotic automated warehouses will set us apart with a higher quality service experience for Canadians. Online grocery home delivery is an essential service – one that's needed now more than ever before. We are thrilled to bring Voilà by Sobeys to the GTA and do our part to help Canadians in this challenging time."
Marks & Spencer (MKS) has recapitalised its balance sheet amid "severe contraints" the UK-wide lockdown has placed on its business.
M&S said it has now completed steps to secure liquidity for the likely duration of the COVID crisis and to "underpin the recovery strategy and accelerated transformation in 2021".
It has reached agreement with the lending syndicate of banks providing the £1.1bn revolving credit facility to substantially relax or remove covenant conditions for the tests arising in September 2020, March 2021, and September 2021.
It has also been confirmed as an eligible issuer under the UK Government's Covid Corporate Financing Facility (CCFF), providing "significant further liquidity headroom".
The agreement with the banks combined with other measures means that under base planning scenarios and even more adverse assumptions, the business will have significant undrawn credit available for the 18 months ahead.
As a result of the uncertain outlook, M&S has scrapped its 2020/21 dividen, generating a cash saving of around £210m.
M&S said it is planning for its Clothing & Home business to be severely constrained during lockdown and highly uncertain trading conditions in a prolonged exit period.
"In the absence of a clear basis for forecasting, our scenario planning and stress tests are based on materially subdued trading for the balance of 2020 in Clothing & Home."
Food trading has also been adversely affected by lockdown due to the closure of cafes and slowdown in travel and some city centre locations.
Coca-Cola European Partners (CCEP) has announced a 4% drop in first quarter volumes as the coronavirus crisis has wiped out its out of home sales across its territories.
Total volume declines for the COVID-19 impacted weeks to date (5 weeks ending 17 April 2020) were in a range of 20% to 40%, with away from home sales down between 45% and 85% and home between 5% up and 10% down across its markets.
Revenue per unit case was up 1.5% benefiting from favourable price and promotions, but offset by negative channel and pack mix, particularly in March, given emerging food to go closures
Group-wide revenues were also down 4% to €2.48bn in the period.
CCEP will has scrapped its interim dividend "until visibility has improved, thus preserving flexibility until a better, informed decision as to appropriate quantum can be made".
It has also previously suspended its share buyback plan, which saw it repurchase €130m (3m shares) of the €1bn programme announced Feb 2020.
CEO Damian Gammell commented: "The [coronavirus] situation is having a fundamental impact on the way people consume our products, particularly in the away from home channel. We are working closely with our customers who continue to trade, providing access to the brands and packs they need at this time, and we are adapting to focus more on the home channel including the growth in online.
"We are confident about the post-crisis future of our business. We have strong fundamentals built upon great brands, routes-to-market, customer relationships and of course great people. While we take action to respond to the immediate crisis and provide relief to communities, we are also preparing for how we enable recovery and then sustained growth. We will accelerate our planning based on the global consumer insights and experience of our brand partners like The Coca-Cola Company.
"Before the crisis took hold in our markets, we saw good momentum in the first quarter, including progress on our sustainability agenda. Despite the uncertainty that surrounds us today, our confidence in the future of our business is driving us to take the right actions to protect our performance, conserve cash and lay the foundations for recovery, all underpinned by a strong balance sheet. We are committed to helping society rebuild and recover, creating sustainable value and a better future for people and the planet."
Global spirits groupDiageo (DGE) yesterday launched and priced a $2.5bn bond offering, consisting of $750m 1.375% fixed rate notes due 2025; $1bn 2% fixed rate notes due 2030; and $750m 2.125% fixed rate notes due 2032.
Proceeds from this issuance will be used for general corporate purposes.
Supermarket property investor Supermarket Income REIT has successfully raised £139.8m in a "substantially oversubscribed" issue of 135,748,028 shares at 103p per share.
The board increased the size of the offer "after careful consideration of the level and quality of demand in the Issue alongside the possibility of acquiring additional assets".
Even with the increased size of the Issue, investor demand substantially exceeded the gross proceeds raised and as such a scaling back exercise was undertaken.
On the markets this morning, the FTSE 100 has opened the day up another 0.1% to 5,854.3pts.
The supermarkets have started the day on the backfoot after the Kantar grocery market share numbers showed a marked slowdown in sales growth. Morrisons (MRW) is down 2% to 182.4p, Sainsbury's (SBRY), down 1.8% to 197.6p and Tesco (TSCO), down 0.9% to 233.1p
Early risers include PayPoint, up 3.2% to 606p, SSP Group (SSPG), up 2.5% to 288.8p and WH Smith (SMWH), up 1.5% to 1,144p.
Fallers so far today include Naked Wines (WINE), down 3.8% to 365.5p, Reckitt Benckiser (RB), down 1.6% to 6,472p and FeverTree (FEVR), down 1.4% to 1,815p.
Yesterday in the City
The FTSE 100 started the week on the front foot, rising 1.6% to 5,846.8pts yesterday.
Risers included travel retail business SSP Group (SSPG), up 7.2% to 281.8p, FeverTree (FEVR), up 6.9% to 1,841p and Naked Wines (WINE) up 6.6% to 1,841p.
Other early movers included PayPoint, up 6.3% to 587p, Applegreen (APGN), up 5.9% to 270p, Compass Group (CPG), up 5.7% to 1,339p, Hotel Chocolat (HOTC), up 4.8% to 329p and Premier Foods (PFD), which continued its recovery from last week by rising 4.7% to 46.6p.
Under pressure retailer Marks & Spencer (MKS), rose 3.9% to 94.4p.
The day's few fallers included Stock Spirits (STCK), down 2.7% to 180p, Glanbia (GLB), down 1.7% to €9.01, McBride (MCB), down 1.7% to 58p, Associated British Foods (ABF), down 1.6% to 1,858p and Morrisons (MRW), down 1.1% to 186.2p.