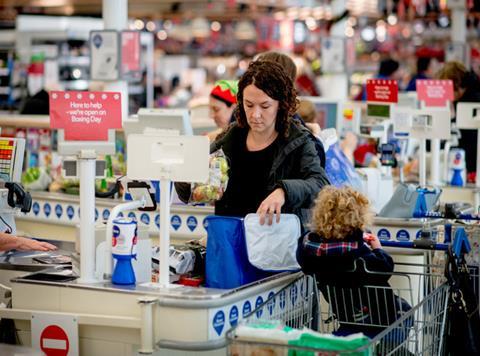 Double-digit grocery growth has continued over the past 12 weeks, with take-home grocery sales rose by 10.8%, but growth slowed to 8% in August according to the latest grocery market share figures from Kantar.
While this marks the sector's fifth consecutive period of double-digit growth, sales slowed in August to their slowest rate since April as some aspects of pre-Covid life resumed.
Fewer meals eaten at home due to the popularity of the Eat Out to Help Out scheme meant consumers spent £155 million less in the supermarkets in the four weeks to 6 September compared with July.
Online grocery growth in the most recent four weeks slowed for the second month in a row to 77% as people ventured out more and shielding came to an end for many, with its share of the market dropping back to 12.5% of total sales this month from a peak of 13.5%.
Ocado remained comfortably the fastest growing retailer over the past 12 weeks, with sales up by 41.2% year on year.
Morrions was the strongest performer of the big four, with sales up 12.9%, followed by Tesco (10.5%), Sainsbury's (8%) and Asda (6.3%).
Morrisons' growth outstripped discounters Lidl and Aldi, which were up 11.4% and 10% respectively.
Iceland and Co-op was the fastest growing physical retailers, with sales up 20.8% and 13.4% respectively.
Fraser McKevitt, head of retail and consumer insight at Kantar, commented: "Grocery growth tailed off in August as the Government's Eat Out to Help Out scheme got underway and people were encouraged to return to offices and resume normal routines.
"Diners' confidence built throughout the month and footfall increased during each week of the scheme, culminating in the final bank holiday Monday when dining out accounted for a two and a half times greater share of consumer spend than the pre-Covid average."
"This is not just about people going out to eat in restaurants, August also brought shielding to an end for many vulnerable and at-risk people."
Grocery inflation now stands 2.3% for the 12-week period ending 6 September 2020, with prices rising fastest in markets such as ice cream, colas and fresh bacon while falling in fresh poultry, vegetables and toilet tissues
Meanwhile, Nielsen also found UK supermarket sales finally begin to stabilise at 5.3% year-on-year growth over the four weeks ending 5th September 2020, after an extended period of accelerated growth.
UK supermarkets have continued to experience strong online sales in the last four weeks, with Nielsen data showing that online FMCG sales were up again by 102%. Nielsen data also shows that in the last 12 weeks ending 5th September, supermarkets experienced 10% more online shopping 'trips' than in the 12 weeks leading to early June 2020, when lockdown was lifted.
This had an impact on bricks and mortar sales, which fell by 1.6%. However, sales across the convenience channels continued to grow, and were up 6.4% in the last four weeks ending 5th September. Overall, spend per visit across all formats - including online - was up by 22% compared to the same time last year.
In terms of retailer performance, over the 12 weeks ending 5th September, Iceland (+16.3%) remained the fastest growing retailer, just ahead of Morrisons (+10.4%) and Aldi (+8.7%).
Mike Watkins, Nielsen's UK Head of Retailer and Business Insight, said: "The growth of online shopping continues to put pressure on stores, with grocery spend at bricks and mortar stores falling again, by almost 2%.
"Whilst there are still shoppers trying online for the first time, the growth of online is now being driven by bigger spends and more transactions. This continued growth in online over the last 12 weeks reflects increased capacity as supermarkets respond to shopper demand and continue to improve efficiencies in the delivery network."