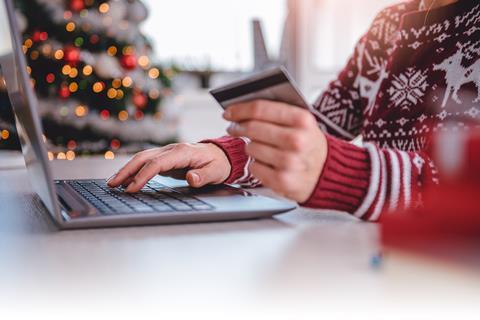 Supermarket sales grew 8.4% over the festive period with almost £12bn spent at the grocers as online shopping surged during Christmas, according to Nielsen.
Total till sales in the last four weeks ending 26 December grow by 8.4%, leading to the biggest December on record for supermarkets.
Nielsen data shows that in the four weeks ending 26 December, a total of almost £12bn was spent at UK supermarkets, with £1.3bn spent online.
However, with the closure of hospitality venues, and additional pandemic restrictions introduced in mid-December, households planned for smaller family celebrations this Christmas, all which may have held back some spend in the final two weeks leading up to 24 December.
This is reflected in Nielsen's data, which shows increasing sales for less traditional meal items such as frozen dumplings (+77%), beef fillets, medallions, and steaks (+57%) and fresh sea bass (+48%). There was also a surge in demand for more convenience food such as frozen croissants (+70%), coffee pods (+56%) and handheld ice creams (+45%). With fewer socialising and gifting opportunities, sales of confectionery (+2%) were subdued.
The online share of grocery sales at UK supermarkets doubled to 12.5% in the last four weeks ending 26 December 2020. That's up from online's 6.7% share of sales during the same period in 2019, in what was the biggest December on record.
This rise is due to a total of 8.5m households, just over 30% of all UK households, shopping for their Christmas groceries online, an increase from 5.7m households over the Christmas period in 2019.
While visits to stores declined by 10%, overall and including online, shoppers increased their spend per visit to an average of £20, up from £17 a year ago. That's the biggest ever spend per visit during the Christmas period, and only slightly lower than the all-time high of £22 recorded at the height of the lockdown in May.
In terms of retailer performance over the last 12 weeks ending 26 December, Lidl led the growth (+20.9%) followed by Morrisons (+9.2%) which led growth among the 'big four' retailers.
Asda was the slowest growing grocer, up 5.3% in the period, followed by The Co-op at 5.4% and Aldi at 7.9%.
Market leaders Tesco and Sainsbury's grew by 8.6% and 8.1% respectively.
Mike Watkins, Nielsen's UK head of retailer and business insight, said: "2020 marks the first Christmas where online shopping played a significant role in consumers' shopping behaviours, with 85% of the incremental sales in food and drink made online in the last four weeks ending 26 December. Although overall grocery growth was a little lower than in November, this takes into account the many challenges consumers faced around restrictions and cancelled Christmas plans.
"It has certainly been an unusual Christmas for us all, and this has affected purchasing decisions. The pandemic has changed how we live, shop and consume and despite consumers celebrating the festivities in smaller groups, food and drink remained at the heart of celebrations. With fewer people to entertain and cater for, many households took the opportunity to enjoy less traditional meals."
Morning update
UK food to go player Greggs suffered an 18.9% drop in like for like sales in its fourth quarter as coronavirus restrictions continue to hamper trading conditions across its estate.
Overally fourth quarter sales were down 14.8% from £344m to £293m during the period which saw further restrictions enacted across the UK to stem the spread of the virus.
In the five weeks to 31 October, Greggs saw a further improvement in the level of like-for-like sales in company-managed shops, averaging 80.1% of that seen in 2019. In the four weeks to 28 November, with more restricted trading conditions, the level of like-for-like sales in company-managed shops averaged 76.7% of that seen in 2019.
Trading in December was initially more robust, supported by the reopening of non-essential retail shops, although this fell back with the introduction of tighter restrictions later in the month.
In the five weeks to 2 January like-for-like sales in company-managed shops averaged 85.7% of the 2019 level – down 14.3%.
CEO Roger Whiteside commented: "In a year like no other I am enormously proud of the way in which our team has risen to the challenges we have faced, whilst looking after the interests of all stakeholders and providing support for communities.
"Whilst the impact of COVID-19 has been enormous, we have established working practices that allow us to provide takeaway food services under the different levels of restrictions we have experienced. The breadth of Greggs' customer base provides ongoing demand for our services which, combined with our diverse geographical spread, has demonstrated the resilience of our business.
"In light of the recent Government announcements significant uncertainties remain in the near-term. We have taken action to position Greggs to withstand further short-term shocks and are optimistic about our prospects for growth once social restrictions are lifted."
To reflect below normal activity levels Greggs completed an employee consultation programme in the quarter, resulting in 820 redundancies.
In the fourth quarter of the year delivery represented 5.5% of company-managed shop sales, driven by its partnership with Just Eat. Some 600 of its shops now provide delivery services to catchments served by Just Eat and this number is expected to increase to around 800 shops in 2021.
During the year it opened 84 new shops (including 35 franchised units) and closed 56, growing its estate to 2,078 shops as at 2 January 2021, 328 of which are franchised outlets.
Greggs ended the 2020 financial year with a net cash position of £37m, having repaid monies due to the Bank of England under its CCFF facility. In place of this funding it has put in place a three-year, £100m revolving credit facility with a syndicate of lending banks.
Greggs said that "government support has been essential in order to minimise the number of job losses caused by lower levels of demand and to contain losses in the business", which it now believes are likely to be up to £15m before taxation for the year as a whole.
It does not expect that profits will return to pre-Covid levels until 2022 at the earliest.
Greggs stated: "As we enter 2021 Greggs is maintaining a strong financial position for the benefit of all its stakeholders, whilst developing new ways for customers to shop with us through digital channels and estate growth.
"We have a strong pipeline of new shop opportunities and expect to open around 100 net new stores in the year ahead, subject to prevailing market conditions."
Greggs shares are up 6.6% to 1,898.1p on the news.
On the markets this morning, the FTSE 100 is up another 0.6% at 6,654.7pts.
Early risers include McBride, up 3.7% to 88.1p, Stock Spirits Group, up 3.3% to 269.5p and Glanbia, up 1.9% to €10.46.
Fallers include Naked Wines, down 2% to 675.4p, British American Tobacco, down 1.7% to 2,740.5p and PZ Cussons, down 1.4% to 233.3p.
Yesterday in the City
The FTSE 100 closed up another 0.6% to 6,612.3pts to end the day at its highest level since the advent of the coronavirus crisis.
Morrisons ended the day down 0.7% to 179.9p after posting its Christmas trading numbers and the release of Kantar's festive market share data.
Tesco rose 0.5% to 238.2p on the news, while Sainsbury's dropped back 0.2% to 225.6p.
The day's risers included Bakkavor, up 4% to 83.5p, Naked Wines, up 3.9% to 689p, Greencore, up 3.7% to 114.4, Premier Foods, up 3% to 102.4p, Just Eat Takeaway.com, up 2.9% to 8,734p, Cranswick, up 2.9% to 3,640p and Pets at Home, up 2.6% to 442p.
Fallers included Hotel Chocolat, down 6.6% to 410p, Kerry Group, down 2.9% to €118.20, Nichols, down 1.5% to 1,330p, Glanbia, down 1.3% to €10.27, Reckitt Benckiser, down 1.1% to 6,709p and Associated British Foods, down 1.1% to 2,202p.