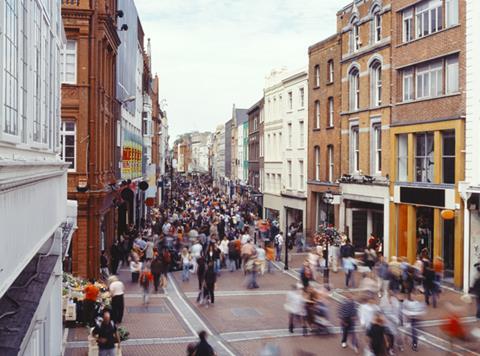 Top story
Retail footfall remained at historic lows in June, but it experienced 'signficant' improvement after the 'turning point' of the reopening of non-essential retail stores in mid-June.
According to Springboard's monthly footfall monitor, the number of UK shoppers was down 57% year on year in June.
This represented an improvement from May's figures when footfall was down 73%.
Springboard Marketing & Insights Director Diane Wehrle said this "significant improvement" reflected the easing of the UK's lockdown during the month which allowed the re-opening of non-essential retailers on 15 June.
"The reopening of non-essential retail stores in England on June 15 was the turning point which led to footfall across all UK retail destinations increasing by 40% week-on-week," she said.
"This catapulted the overall UK footfall result from an average annual decline of 67% in the first two weeks to 50% for the remainder of the month."
She said that "pent-up anticipation to shop" after more than three months of closure resulted in a "huge spike" in footfall in the week of re-opening.
However, footfall in the subsequent two weeks slowed considerably, from 6.6% in the first week after reopening to 2.4% in the second week.
"Long queues coupled with a restricted shopping experience due to social distancing could be the contributing factors to this sudden drop off in footfall," she added. "This is concerning for the economic recovery path of bricks and mortar retail who are heavily reliant on customer experience."
High street footfall slumped 65% during the month, with shopping centres down 62% and retail parks down 32%.
Wehrle added: "This is a sharp contrast with high streets and shopping centres which rely on a blend of shoppers, workers, students, tourists and residents to fuel spending.
"The fact that much of the workforce continues to work from home, tourists and many students are absent, as well as the Government urging consumers to only use public transport for essential travel, means that footfall and therefore sales, will continue to be compromised in these retail destinations."
Morning update
The FTSE 100 has started the week on the front foot, rising 1.4% to 6,180.1pts on hopes progress is being made towards effective coronavirus treatments.
Early risers include Coca-Cola European Partners, up 6.1% to €35.53, Glanbia, up 4.7% to €10.30, Stock Spirits, up 4.1% to 237.3p and Compass Group, up 3.8% to 1,157p.
Fallers so far today include Applegreen, down 4.4% to 330p, Hotel Chocolat, down 1% to 302p and Ocado, down 0.7% to 1,988p.
This week in the City
The highlight of this week is Ocado's half year results, which will be released tomorrow.
Also on Tuesday morning, there will also be a trading update from household goods manufacturer McBride.
Tuesday also brings the monthly UK inflation figures from the office of National Statistics.
In the US, PepsiCo will issue its interim 2020 results later this afternoon.
GFK will issue its latest consumer confidence survey data on Friday morning.