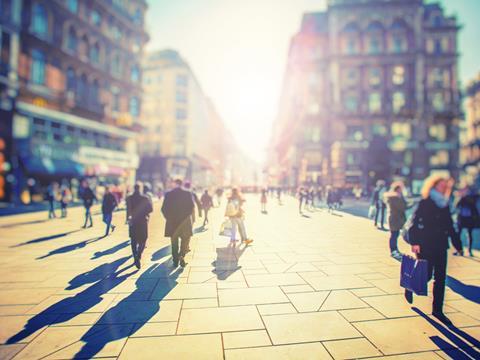 Top story
UK retail sales grew 13.9% in June compared to the previous month, with sales now back up to pre-lockdown levels driven by strong food sales growth.
The Office of National Statistics said retail sales volumes increased by 13.9% when compared with May 2020 as non-food and fuel stores continue their recovery from the sharp falls experienced since the start of the coronavirus pandemic.
The two monthly increases in the volume of retail sales in May and June 2020 have brought total sales to a similar level as before the coronavirus pandemic, with a fall of just 0.6% when compared with February. However, the ONS stresses that there is a mixed picture in different store types.
In June, while non-food stores and fuel sales show strong monthly growths in the volume of sales at 45.5% and 21.5% respectively, levels are still significantly down after sharp falls experienced in March and April.
Food stores and non-store retailing both reached new high levels since the start of the pandemic, with volume food sales 5.3% higher despite a 0.1% drop in June.
Non-store retailing remains 53.6% higher than February after a 1.1% increase in the month.
In the three months to June, the volume of sales decreased by 9.5% when compared with the previous three months, with declines across all store types except food stores and non-store retailing.
The proportion of online spending reduced to 31.8% in June when compared with the record 33.3% reported in May, but is a considerable increase from the 20% reported in February.
Morning update
Hotel Chocolat has released a full year trading update for the year to 28 June 2020, with overall revenues up despite the recent closure of its stores under the coronavirus lockdown.
The group posted revenues of £136m in the year, an increase of 3% compared to the 52 weeks ended 30 June 2019:
In the first half of the year, group sales of £92m were an increase of 14%, however, group sales of £45m in the second half represented a 14% decline due to coronavirus closures.
All UK physical locations were closed for a period of 12 weeks from 22 March to 15 June. This period coincided with Easter and Mother's Day, two of the three largest gifting seasons for the group.
However, Hotel Chocolat said it was able to migrate a significant proportion of these sales to online, by collecting Easter inventory from over 100 retail locations, temporarily reducing the online product range, and introducing pre-selected product bundles so that the distribution centre could safely handle as much of the surge in online demand as possible.
In total, digital sales accelerated to over 200% year-on year in the fourth quarter. In addition to increased gifting sales, digital sales growth throughout the period was supported by a 47% year-on year increase in the sales of subscriptions and recurring purchases, including Hot Chocolat refills for the Velvetiser in-home system.
Its factory in Cambridgeshire was temporarily closed for eight weeks whilst adaptations were made to ensure Covid-secure working. It re-opened in May and is now operating at 90% of normal capacity.
The mitigation actions led to some material additional short-term costs in the second half of the year, both in the form of lower gross margins due to re-handling of inventory, and increased overheads due to the adoption of new working practices, but the group said it has also led to improved agility and resilience of the ongoing business.
Hotel Chocolat anticipates underlying pre-tax profit to be in line with expectations.
However, in the light of current and anticipated trading performance the carrying value of existing fixed assets is being reviewed, which may give rise to a higher than historic impairment charge. Any such adjustment will be a non-cash charge and will be confirmed at the release of preliminary results, scheduled for 29 September 2020.
Currently 119 of 125 of its UK locations are back open for business. Sales in high street locations are performing more strongly than in city-centre 'commuter' locations.
Whilst total sales from physical locations are lower year-on-year, digital growth remains very strong and Group-wide sales since the end of the period remain in line with management expectations.
A similar pattern has been seen in both the USA, and in Japan, which is operated by a joint-venture partner.
"The board remains confident in the resilience of the Brand, and the potential for growth and success in the future but it also acknowledges less visibility than usual for FY21, given the uncertain severity and duration of the Covid-19 impact," it stated.
Co-founder and CEO Angus Thirlwell commented: " I've been hugely impressed by how our team have responded, culturally, professionally and ethically during the pandemic . The acceleration of change in the retail landscape has galvanised us to speed up our plans and investments in the opportunities we were already pursuing.
"We remain positive about the unparalleled leisure experience a physical Hotel Chocolat can deliver within our multi-channel direct-to -consumer model. All we need is footfall , and so far we are seeing that return at different rates. Residential areas are stronger, with city centres more subdued without as many commuters and tourists.
"We pledged at the beginning to keep the Hotel Chocolat family together through this, and that is what we have done. We are confident about the prospects for our business and are actively creating 200 new jobs this year, primarily roles in our UK chocolate - making factory and enlarged distribution centre."
Meanwhile, Naked Wines has announced that chairman John Walden will step down from his position and the board at its AGM on 6 August 2020 due to "personal reasons".
Ian Harding, senior independent director and chair of the remuneration committee will be appointed as chairman until his scheduled retirement from the board in the summer of 2021.
A full and inclusive process will commence to identify a new none executive director and chairman-elect will take place, with the candidate expected to "support our agile, entrepreneurial culture and our enhanced focus on our largest and fastest growing market, the US".
Harding joined the Board in June 2013 and played an instrumental role in the acquisition of Naked Wines in 2015 by Majestic Wine and the subsequent transformation of the business into Naked Wines. Prior to this he spent 19 years in various senior roles within Kingfisher plc and eight years at PwC .
David Stead, currently chair of the audit committee and a NED since November 2017, will be appointed senior independent director, while Katrina Cliffe will become chair of the remuneration committee.
On trading performance, Naked said it continues to trade strongly, with total sales in June 67% against the prior year, bringing sales growth for the first quarter to 77%.
"The board continues to believe that Naked is ideally positioned to be a long-term winner from the inflection in consumer demand for online wine as a result of the Covid-19 pandemic," it stated. "Uncertainty as to the extent and duration that current trading conditions will persist means that the group is not providing full guidance for the financial year, but it will keep the market updated on its trading performance as appropriate."
John Walden, outgoing chairman, commented: "It has been a privilege to lead Naked through its transformation to a pure-play online business, its continued growth and recent successful response to the Covid-19 pandemic.
"It was a difficult personal decision to step down at this juncture however, it is the right decision for myself and Naked Wines. I leave the business in a strong position to grow and to realise its promise for an extraordinary future. I wish the team every success in the years to come."
Incoming chairman Ian Harding added: "On behalf of the board, I would like to thank John for his guidance and support during his time as Chairman. He led the board through the execution of the sale of the Majestic businesses, Naked ' s formative stages of becoming a pure-play online business with an enhanced focus on the US market, and the unprecedented trading conditions of the Covid-19 pandemic.
"He leaves the Group with a strong balance sheet, clear focus and strong growth momentum and we wish him well for the future. I look forward to leading the Board through the next phase of our exciting journey and working closely with David and Katrina in their new roles."
On the markets this morning, the FTSE 100 has slumped 1.6% back to 6,109pts this morning.
Fallers so far include Just Eat Takeaway, down 3.9% to 8,088p, McColl's, down 3.7% to 36.4p and Ocado, down 3.4% to 2,106p.
Risers include Hotel Chocolat, up 5.3% to 294.9p on its trading update this morning, Naked Wines, up 2.5% to 415p and Nichols, up 2.4% to 1,321.5p.
Yesterday in the City
The FTSE 100 ended the day up 0.1% to 6,211.4pts yesterday.
Unilever ended the day up 7.9% to hit its highest share price level since autumn last year of 4,671p after beating first half expectations thanks to strong in home food and household goods sales.
Other risers included Carr's Group, up 5.9% to 125p, Coca-Cola European Partners, up 4% to €35.47, Glanbia, up 3.1% to €10.64, PZ Cussons, up 2.8% to 197.8p, Diageo, up 2.6% to 2,853p and Majestic Wine, up 2.4% to 405p.
The day's fallers included Hotel Chocolat, down 3.5% to 280p ahead of its full year trading announcement this morning, while DS Smith fell 2.9% to 275.7p, Compass Group dropped 2% to 1,123p and SSP Group was down 2% to 239.8p.