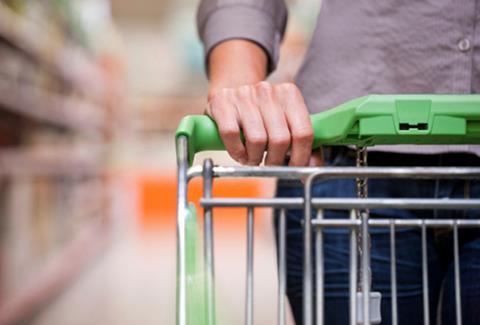 Top story
Food and grocery sales have slowed down in July following exceptional growth at the height of the coronavirus outbreak as shopper behaviour returns to "normal", according to the latest BRC-KPMG retail monitor.
In the wider sector, the data revealed some signs of a recovery for retail as restrictions continued to ease, but the BRC warned there was little cause for optimism.
On a total basis, retail sales increased by 3.2% in July, against a rise of 0.5%a year ago. It is above the three-month average growth of 0.4% and the 12-month average decline of 1.9%.
It is the second consecutive month of growth since the start of the pandemic.
Like-for-like sales, which exclude temporarily closed stores but include online trading, jumped 4.3% last month, compared with a 0.3% rise in July 2019.
Over the three months to July, in-store sales of non-food items declined 29.3% in total and by 11.3% on a like-for-like basis, while food like-for-like sales improved by 8.2% – and 6.1% in total – in the same period.
It is the best showing for food stores since June 2009 and higher than the 12-month total average growth of 3.2%.
However, IGD chief executive Susan Barratt said following two months of "exceptionally" strong growth, food and grocery sales slowed "notably" in July.
She added it signalled a move towards more normal or pre-lockdown shopper behaviour.
Alcohol sales are still contributing significantly to growth for supermarkets, but less so than in May and June.
"The economic impact of Covid-19 will be felt on shopper confidence going forward and retailers should prepare for increased focus on savvy shopping for the remainder of the year at least," Barratt said.
Online non-Food sales increased by 41% in July, against a growth of 3.7% in July 2019. Non-food online penetration rate increased from 29.7% in July 2019 to 42% this July.
Paul Martin, UK head of retail at KPMG, said, although pent-up demand continued to help improve sales in July, fortunes were "heavily polarised", with fashion sales continuing to suffer, even online.
"While social distancing restrictions have eased and our daily lives have started to return to a degree of normality, shoppers are still focussed on life at home for the most part," he added.
"September will be the real test for retailers this quarter, traditionally being a month of high volumes driven by the return to school after the holiday season. That said, with the furlough scheme unwinding and wider economic uncertainty set for the autumn, consumer anxiety will likely rise along with it. This will place more scrutiny on disposable income and make life even tougher for retailers."
BRC chief executive Helen Dickinson said many shops continued to struggle as footfall was down, with many people still reluctant to go out, and fewer impulse purchases.
The strongest performance came from food, furniture and homeware, as consumers increasingly invested in their time at home, while fashion, jewellery and beauty retailers were still struggling to survive.
"While the rise in retail sales is a step in the right direction, the industry is still trying to catch up lost ground, with most shops having suffered months of closures," she added.
"The fragile economic situation continues to bear down on consumer confidence, with some retailers hanging by only a thread in the face of rising costs and lower sales. Rents are also continuing to accumulate, and the next quarter rent day could see many otherwise viable businesses fall into insolvency, costing stores, jobs and economic growth."
Dickinson called on the government to adopt the proposal from landlords and tenants for a property bounceback grant.
Morning update
Employment in the UK nosedived in the past three months, falling by the biggest amount in more than a decade as the coronavirus crisis started to hit businesses. Official ONS figures revealed employment slumped by 220,000 between April and June. It was the largest decrease since 2009 during the heights of the financial crash.
Jonathan Athow, deputy national statistician at the ONS, said: "The groups of people most affected are younger workers, 24 and under, or older workers and those in more routine or less skilled jobs. This is concerning, as it's harder for these groups to find a new job or get into a job as easily as other workers."
The government's furlough scheme, which starts to wind down in October, has protected large numbers of jobs, with economists predicting big falls in the autumn.
Profits have fallen at Domino's Pizza Group as costs related to Covid-19 ate into sales growth.
Underlying EBIT in the UK and Ireland fell 4.1% to £49.5m in the six months to the end of June after the group was hit with an extra £6.2m of costs to ensure safe trading during the pandemic.
Revenues, however, increased 5.5% to £628.9m as consumers in the UK turned to takeaways with restaurants and pubs closed. Like for like sales grew 4.8% during the half.
Collection orders plunged by 87% in the second quarter as the business switched off the service during lockdown, resulting in a 22% increase in delivery orders.
"I am pleased to report a resilient first half performance," chief executive Dominic Paul said.
"Throughout these unprecedented times we have focused on doing the right thing for our customers, colleagues, franchisees and communities. We view it as a privilege to have been able to stay open throughout the period. I have been hugely impressed by the hard work, dedication and agility of our colleagues and our franchisee partners to keep Domino's delivering, and I would like to say a big thank you to the entire team."
He added: "The macroeconomic, consumer and competitive backdrop for the second half of the year contain considerable uncertainties.
"Our system demonstrated responsiveness and agility in meeting the challenges presented through the lockdown period, although that did come at some inevitable and, in certain areas considerable, incremental costs. While trading in the first few weeks of the second half has been encouraging, it is too early to conclude on how consumer behaviour will evolve. We look forward to the remainder of the financial year, and to the long-term future of the business, with confidence in the strength of the brand and our operations."
Shares in the group slumped 2.8% to 315.8p as markets opened this morning.
C&C Group has confirmed former Heineken UK boss David Forde will take over as CEO on 2 November 2020 and will join the board as an executive director on the same date. Upon Forde joining C&C, Stewart Gilliland will revert to the role of non-executive chairman.
The FTSE 100 has started on the foot foot this morning, climbing 1.5% to 6,143.91pts upon markets opening, despite the ongoing crisis and soaring unemployment.
Greencore opened 2.9% higher this morning to 131.9p. Other early risers included ABF, up 2.7% to 1,960.5p, Coca-Cola HBC, up 1.8% to 2,128p, and Compass Group, up 2.6% to 1,208.1p.
Bakkavor is down 1.8% to 65.8p, Finsbury Food Group is down 1.6% to 58.1p, and Hotel Chocolat fell 0.8% to 300p.
Yesterday in the City
The FTSE had a solid start to the week, rising 0.3% to 6,050.59 pts.
It is looking like a quiet week for company news in grocery and retail.
Beleaguered WH Smith was the big retail riser of the day as investors bought back in after heavy falls, with the shares up 7.4% to 1,004p.
Marks & Spencer also experienced a good day, with the share price rising 6.5% to 110.4p, while Hotel Chocolat rose 4.2% to 310p.
Other risers included ABF, up 1.8% to 1,918.5p, British American Tobacco, up 2.1% to 2,542.5p, and SSP group, up 2.5% to 238p.
Naked Wine saw some profit taking after big gains last week, with shares down 5.4% for the day at 460p.
Losers for the day including forecourt group Applegreen, down 5.9% to 310.5p, Vimto owner Nichols, down 1.6% to 1,250p, and Ocado, down 1.7% to 2,201p.