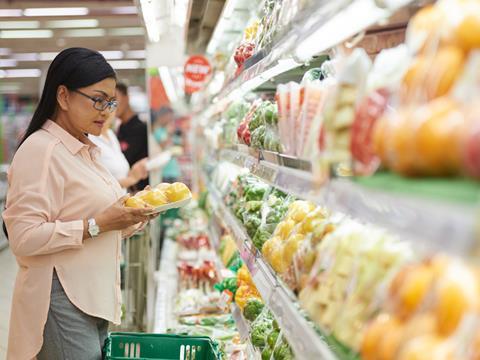 Supermarket price inflation remains at its lowest level since January 2017, with price rises triggered by the post-Brexit fall in the pound having almost entirely dissipated.

The Grocer Price Index, ­collated by Brand View from analysis of more than 64,000 individual SKUs, edged back up to 0.1% in September, having been flat in August but it is still at its lowest level for almost 20 months.

The 0.1% level of inflation is a marked fall from the 2.7% inflation high recorded less than a year ago in November 2017 and well behind the 12-month average of 1.4%.

Notably, prices are back into deflationary territory at the UK's biggest supermarket. Tesco recorded a fall in year-on-year prices for the second consecutive month.

Tesco's average prices across September were down 0.5% on top of a 1% price fall in August.

Before its August move back into deflation, Tesco had reported the highest level of supermarket inflation every month for an entire year as its resistance to price increases in the first half of 2017 led to bigger year-on-year price hikes in the subsequent months.

Sainsbury's prices remain flat year on year, having recorded deflation in four of the previous five months.

Asda and Morrisons remain in modest inflation, with prices up 0.9% and 0.4% year on year respectively. Waitrose, which is not included in the overall GPI calculation, recorded a 0.4% increase in annual prices.

Six of the GPI's 14 categories were in deflation in September - most notably meat, fish & poultry, which is down 2.6% having been running at inflation of 4.4% in November 2017.

Deli, the smallest of the GPI categories by SKU count, recorded a 3.7% price decrease in September, while dairy was down 1% and fruit & veg were down for the second consecutive month, falling 0.6%.

The overall deflation in meat, fish & poultry and dairy category prices were heavily driven by Tesco, with the supermarket showing a 6.8% annual price decrease in the former and 4.5% in the latter.

Soft drinks remains the category displaying the highest level of annual price inflation, having jumped in April due to the advent of the sugar levy. The category is currently up 3% year on year.

Other categories to see prices rise in September included frozen (1.4%), chilled (1.2%) and bakery (1.8%).

From this month, The Grocer and Brand View have tweaked the methodology in the GPI, which was launched in July 2008.

The updated GPI will now track an average of supermarket price movements across the month to enhance the index's accuracy in measuring inflation. The previous methodology took a snapshot of prices on the first day of the month.