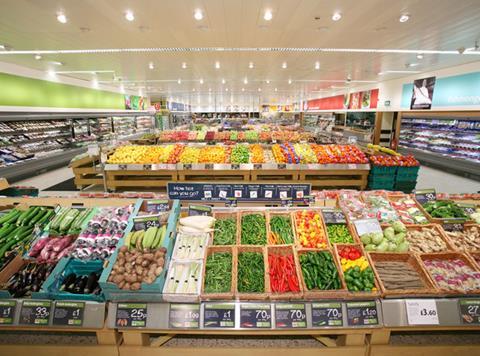 The price of UK food and non-alcoholic drinks rose 0.3% in February after 31 consecutive months of decline, according to the Office of National Statistics.
The return to sector inflation marks the first annual increase in food prices since April 2014 after a period during which the 12-month rate was often lower than -3%.
Rising food prices helped propel the overall Consumer Prices Index up to 2.3%, which represents a 0.4 percentage point jump from the 1.9% recorded in January.
The inflation rate in February 2017 was the highest since September 2013, having steadily increased since late 2015.
Rising transport costs, particularly for fuel, were the main contributors to the jump in inflation.
Prices for motor fuels increased by 1.2% between over the single month between January and February 2017.
Food prices, overall, rose by 0.8% between January 2017 and February 2017, compared with a smaller rise of 0.1% a year earlier.
There were particularly large price rises for certain vegetables, which are consistent with reports of poor growing conditions in southern Europe affecting availability.
The ONS return of food price inflation mirrors the results of the most recent Grocer Price Index, which found supermarket shelf prices were rising (by 0.5%) on an annual basis for the first time since May 2014.
Analysis of GPI figures over those dates shows supermarket prices remain, on average, 5.2% lower than they were in early 2014.
Other measures of food price inflation have found more significant rises, with Kantar Worldpanel finding annual price inflation of 1.4% in the three months to February.
Broker Shore Capital commented today: "We see such inflation as being broadly absorbed by the consumer whilst for the industry in general a return to low-level and so manageable household inflation is more virtuous than not, to our minds.
"That said, an eye needs to be kept on the dangers of over-inflating, which can lead to detrimental consumer behaviour from a margin perspective."
Bernstein added: "Retailers have to say it is tough, and they do what they always do during inflation: cut costs and amend product specifications, packages or processes to offset some of the price rises. That is their day job and does not imply 'absorbing inflation in the margin'."