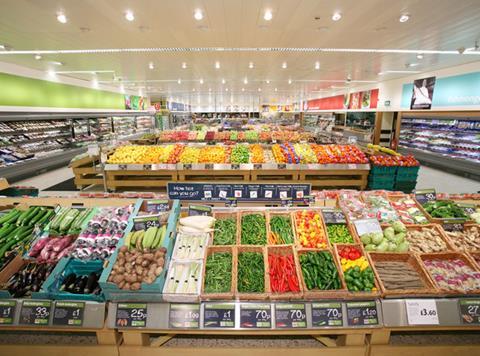 Home-grown fruit and vegetables have helped 'keep a lid on' rising prices in the supermarkets in August, but this will change in the coming months, the latest shop inflation data revealed today.
Fresh produce sourced from around the UK during the summer has saved the multiple retailers from buying pricier imports, which have been affected by the weakness in the pound versus the euro since the Brexit vote last year.
The British Retail Consortium (BRC) and Nielsen said in the latest shop price index that buying domestic produce has partly shielded shoppers from accelerating prices in other categories such as ambient.
However, the BRC CEO Helen Dickinson warned that winter would bring higher prices as the supermarkets are forced to rely more on imported fresh food.
"Food inflation moved upward, driven by an acceleration of ambient food inflation, although the slowdown in fresh food inflation for a second month kept a lid on overall increases in the price of the weekly grocery shop," she said.
"The seasonal availability of fruit and vegetables from UK suppliers is currently shielding shoppers from the impact of higher import prices. However, as winter approaches and our dependence shifts to imported goods, that will change."
Overall food inflation increased by 1.3% in August, compared with 1.2% in the previous month. The inflation rate of ambient food prices accelerated to 1.9% in August from 1.6% in July – the highest since December 2013.
Fresh food inflation eased for a second consecutive month, down to 0.8% from 1% in July.
"Food inflation continues to be kept in check by lower increases in fresh and seasonal foods and as fresh is typically over 40% of the shopper spend in supermarkets, this is helping to offset the rising cost of living in household bills," added Mike Watkins, head of retailer and business insight at Nielsen.
"Whilst consumer sentiment is on the turn and shoppers are becoming cautious about spending on big ticket items, prices are still very competitive on the high street and spend on food and drink has been strong over the summer, albeit disrupted by the changeable weather in August."
Overall shop price deflation was 0.3% in August, a slight deceleration from the 0.4% per cent fall in July as non-food deflation fell to a four-year low.