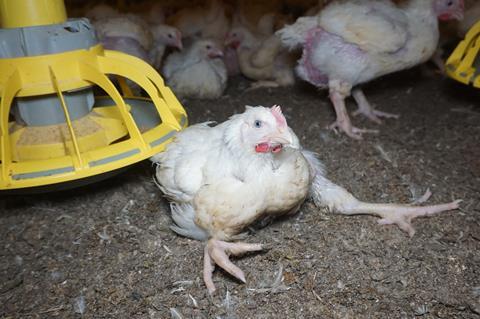 Poultry sector standards are in the headlines once again after undercover filming at farms owned by Avara Foods exposed scenes of "extreme suffering, cannibalism and abuse".
The poultry giant today admitted the footage "seemed to show" instances where its procedures "had not been followed". It added: "That's not good enough."
It followed an investigation by animal welfare group Animal Equality, which claimed to uncover a series of alleged welfare breaches at three of its Northamptonshire poultry farms from January to March, after the group received a tip-off about poor conditions.
These included instances of workers "deliberately kicking and stepping on birds repeatedly", Animal Equality said, in addition to cases of dead birds being left to rot among the living – leading to cannibalism on at least one farm.
Dozens of birds were also filmed by activists collapsed under the weight of their bodies and unable to stand, the group claimed.
Meanwhile, workers were filmed "callously breaking birds' necks and leaving them to convulse amidst the flock", Animal Equality said, with dying birds also thrown on to a pile and "left to suffer for hours" as workers cleared sheds for slaughter.
"Sensationalist headlines about American chlorinated chicken would have us believe that British birds live a life of luxury, but these harrowing scenes reveal the truth," said Animal Equality executive director Toni Vernelli.
Welfare of the 'utmost' importance
But in response, a spokesman for Avara insisted it took its "responsibilities for the birds in our care very seriously and their health and welfare is of the utmost importance".
Farmers were required to carefully inspect flocks on a daily basis – to identify any birds requiring attention or which may need to be culled. And after an investigation into the claims made in the footage, the supplier "quickly identified some misunderstandings and incorrect inferences within the Animal Equality report".
For example, the lame flock filmed by Animal Equality was suffering from an infection that affected leg health, which had subsequently been treated with medication and had improved, the spokesman said.
But notwithstanding these observations, Avara "would not compromise bird welfare", he stressed.
"Our procedures on farm have been put together with that in mind. Not following procedures is not an option, and we're making that crystal clear," he added. The business also recognised its requirement to remove any culled or fallen birds as soon as they were identified had not been followed.
"We will take all necessary action to ensure that this situation does not reoccur. Anyone found not to be meeting our standards will be subjected to comprehensive retraining and further steps will be taken if appropriate."
Red Tractor, the RSPCA and the Animal & Plant Health Agency had also made unannounced visits since the footage was taken and were "satisfied with the health and welfare of the birds", he said.