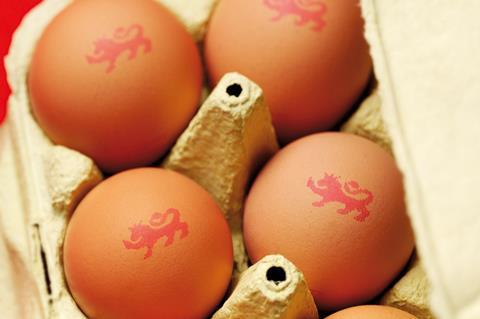 Free-range and organic egg supplier Stonegate Farmers has signed up to the British Lion Egg Processors scheme, meaning it now accounts for 90% of all the eggs processed in the UK.
Stonegate, which mainly processes liquid and boiled egg for food manufacturing and foodservice, but also operates a shell egg business, has now become the 10th major member of the scheme.
British Lion said the company's move would make it easier for retailers, food manufacturers and the foodservice sector to ensure eggs were being produced and processed in line with its standards.
"As an existing British Egg Industry Council member we are pleased to join the processed egg supplier scheme at a time of exciting growth for the industry," said Stonegate divisional director for convenience foods, Mark Simmons.
"We look forward to working with existing and new customers, offering high-quality processed British free-range and organic egg products."
The move has happened at a time when demand for British Lion eggs is said to be at an "all-time high", according to the BEIC.
This year, coronavirus-related demand saw retail value sales for shell eggs in the mults rise 37% year on year to £294m, while volumes rose 28% over the same period [Kantar 12 w/e 12 July 2020].
It builds on a longer-term trend of greater egg consumption as the number of fresh eggs sold through retail channels rose by more than 50% from 2008 to 2019, climbing 3.4% last year to a total of 6.6 billion eggs sold in 12 months [Kantar 52 w/e 29 December 2019].