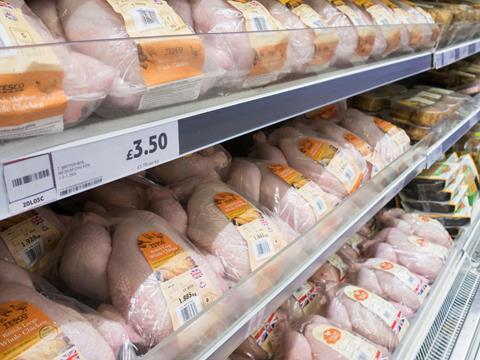 The days of cheap supermarket chicken could be over, with soaring costs throughout the supply chain set to drive significant inflation over the coming months, 2 Sisters Food Group has warned.
In a stark warning of impending price rises, the poultry giant's CEO Ronald Kers said it was already in discussions with its retail partners over the need to "face reality and work together" to increase the price of its products.
And with inflation expected to reach double digits as suppliers faced "massive inflationary challenges" on a number of fronts, he told The Grocer the food industry was at a "fork in the road".
"Either we invest in our future or we could see British food supply [and self-sufficiency] crumbling," he said.
Companies like 2 Sisters had already reduced costs and overheads in a bid to keep its prices low, Kers pointed out. "But with the scale of inflation now coming through, there needs to be a reset in how we look at food prices," he urged.
"How can it be that a chicken costs £3.50, while 10 years ago it cost £5?" he asked. "Food is simply too cheap." And while admitting there would be "some tension" in 2 Sisters' negotiations with its retail partners, there was little alternative.
"Because inflation is so evident in all sectors and with all manufacturers, it's inescapable for any retailer," he said, before suggesting it was also unlikely British retailers would resort to imported alternatives in the face of price rises from UK suppliers.
"Certainly, the British public wants British chicken and we are also seeing more of a trend toward higher welfare chicken," he said. "We think consumers would be prepared to pay more, for higher welfare birds, especially."
Inflationary pressures
In addition to spiralling costs linked to transport caused by the shortage of HGV drivers, 2 Sisters had increased year-on-year wages by about 15% due to staff shortages across its manufacturing estate, Kers pointed out.
On-farm feed costs were also up 15%, while less visible commodities such as feed supplements, wood shavings for litter, disinfectants and vet costs had risen by as much as 20%. Elsewhere, the processor had seen energy costs jump by up to 550% over the past year, with packaging costs rising by 20% in the past six months.
And despite a deal – brokered by the government this week – for CO2 manufacturer CF Industries to guarantee production of the gas until the new year, uncertainty remained over the long-term supply of the gas, Kers said, with prices having already risen by up to 500% over the past three weeks.
Retailers were already reducing promotional activity in the face of tighter chicken supplies driven by the labour crisis, but there was "a lot more to come" when it came to price increases, he warned.
"We've already cut back on production, so it's one of the first times [in recent memory] demand is probably slightly higher than supply," he said.
And for that reason, alongside shortages and price inflation across the global chicken supply chain, Kers was bullish that retailers should support 2 Sisters' call for price increases.
"We want a fair price, we don't want exorbitant margins," he claimed. "Those customers that support us are the ones we are going to be selling to. For those that don't, they'll need to find it from somewhere else, and there is not enough chicken on the market."
Kers' comments were echoed by 2 Sisters' founder and president Ranjit Singh Boparan, who this week called for "transparent, honest pricing", and said inflation was "decaying the food sector's supply chain infrastructure and its ability to operate as normal".
"Three months ago I was vocal about the government needing to help with labour issues," he said. "I've now come to the conclusion that in reality it can't fix all the problems, nor can it control inflation. The temporary seasonal visas for poultry workers is welcomed, and so is the government's willingness to look at supply chains, but we need to be honest about the long-term implications."
And dealing with the supply chain's issues "would come at a cost", Singh warned.
"I need to invest, increase automation and make our factories more welcoming for new recruits, which are longer-term goals. But right now I need to be honest about what this means for the consumer as inflation could reach double digits."