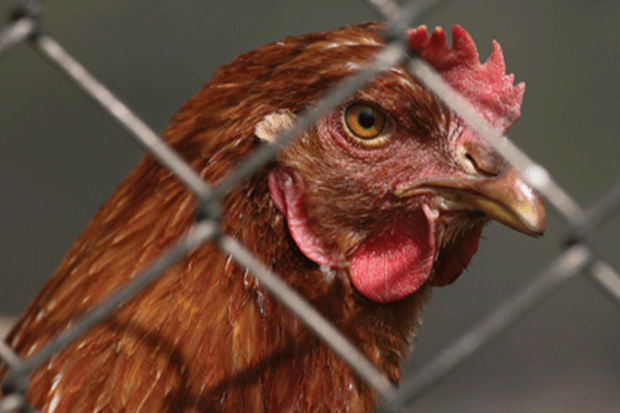 The egg and poultry sectors are bracing themselves for a possible extension to current bird flu restrictions after a case of highly pathogenic avian influenza was confirmed in Staffordshire.
Having been in place since December, the nationwide compulsory housing order for birds from all farming systems was set to end tomorrow night (31 March) provided there were no new cases of bird flu.
But yesterday's confirmation that a commercial broiler premises on the outskirts of Uttoxeter, Staffordshire had recorded cases of the highly pathogenic H5N8 strain has placed the lifting of restrictions in doubt.
Defra said it was reviewing this case and a separate outbreak of a low pathogenic strain of H5N3 avian flu at a commercial turkey breeder near Winsford, Cheshire. It sought to remind all bird keepers of their roles in preventing outbreaks of the disease.
"Housing is not a replacement for good general biosecurity and all bird keepers regardless of flock size must continue to follow the enhanced biosecurity measures set out in the GB-wide avian influenza prevention zone and to be vigilant for any signs of disease," said a spokeswoman for the government department.
The bird flu risk level – downgraded to 'medium' last week – remains unchanged, while the GB-wide bird flu prevention zone and its extra biosecurity measures remain in place.
The British Egg Industry Council described the developments as a "concern" but said it expected the housing order to still be lifted.
"We have seen a significant overall decline in the risk of infection from wild birds," said BEIC CEO Mark Williams. "We will of course be working with Defra to more closely understand the likely source in this particular case and our farmers will continue to observe the highest standards of bio-security to ensure birds remain safe, which is paramount."
Echoing BEIC, the British Free Range Egg Producers Association said the new outbreaks were "unfortunate and unwanted, but not unexpected" and added it would still request Defra to lift the housing order as planned.
Free-range egg producers were badly hit by avian flu housing order restrictions during the last significant bird flu outbreak four years ago.
The British Poultry Council urged caution among producers in order to protect the health of birds and "minimise impact on international trade".
The highly pathogenic H5N8 strain of bird flu has swept across the UK and Europe since October 2020 due to the migration of wild birds carrying the disease.