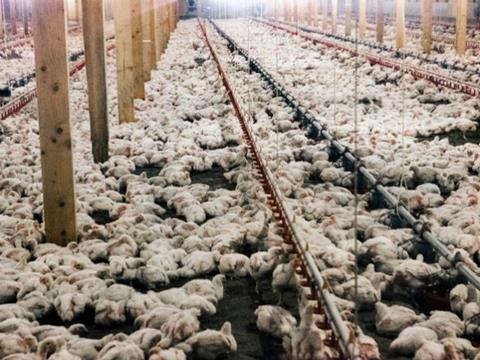 Faccenda Foods has defended its animal welfare record after vegan campaign group PETA complained to the Advertising Standards Authority over what it claimed were "misleading" welfare promises on its website.

PETA challenged Faccenda's claims of high animal welfare in its supply chain, and accused the processor of making misleading statements and exaggerations in outlining its responsibilities and welfare commitments.

A video, filmed in March 2016 and supplied by PETA to the ASA in support of its claims earlier this week, showed dead chickens littering barn floors at Buckinghamshire Faccenda supplier Stewkley Farm. It also filmed birds with bald patches, which PETA attributed to "ammonia burns from the build-up of excrement and stress from the extreme crowding".

But in response, Faccenda offered a robust defence of it standards, and claimed the birds were 'shedding the characteristic yellow down of chicks and growing white feathers in their place', while also highlighting the absence of feathers on the floor as proof.
The main focus of the PETA complaint centred around its assertion the video contradicted Faccenda's commitment that "good welfare is paramount and that means birds that are healthy and comfortable".
Other statements by the supplier it took opposition to included: "We have a zero tolerance attitude toward anything that jeopardises the health and wellbeing of the animals in our care" and "Our birds might not be able to talk but they are still the ones who tell us we're getting it right".
PETA further claimed that the animals were forced to live in "filthy, windowless, crowded sheds", which were dismissed as false by Faccenda on the grounds its barns had double-glazed windows. It also refuted reports its birds were injured and crippled.
The animal rights organisation also reported Stewkley Farm, which holds Red Tractor Assured status, to the RSPCA over its alleged breaches.

"All of our farms operate to standards above EU and UK legislation. They are independently audited and visited on a regular basis by an external vet to monitor bird health and welfare," said a Faccenda spokesman.

Despite this, the poultry giant, which in January launched the Avara joint venture with Cargill, said it had implemented numerous measures since the video was filmed. The natural evolution of the business had seen personnel changes and the installation of feed pans and renewable heat sources, the spokesman added.

Faccenda also challenged PETA's portrayal of its slaughter process, which described chickens strung up by their feet, before having their throats slit. In fact, Faccenda abattoirs use controlled atmosphere killing, it said.

Faccenda added: "We place high expectations on our people when it comes to looking after the birds in their care. If they fail to meet our standards then they will not manage one of our farms."