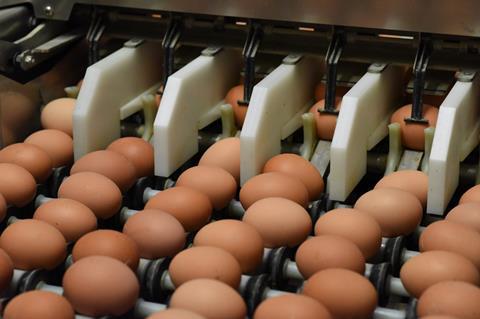 Free-range egg prices could be driven down by the current rate of expansion in production.
According to the British Free Range Egg Producers Association, production has increased 14% since 2017, with the UK laying flock now numbering almost 25 million hens.
While any drop in price paid to producers could ultimately be good news for consumers, BFREPA warned the increase in production was also creating a "significant oversupply situation" with "most" free-range egg producers not breaking even.
The industry body said that as well as existing suppliers boosting their operations, the sector had welcomed many new entrants who were being encouraged to move to the higher welfare system through short-term contract incentives.
"We have been warning for many years that rapid expansion will create a situation of oversupply, all the while the price paid to farmers has diminished and is now 20% lower than it was five years ago," said BFREPA CEO Robert Gooch.
"The trend is clear: as production has increased, the price paid to farmers has decreased. This situation is unnecessary and unsustainable."
Gooch's comments follow a report on the impact of retailer cage-free commitments, which forecast only a 2% boost to production would be required over the next five years to meet UK demand.
The report, penned by agricultural consultancy ADAS, predicted growth in demand for free-range eggs would rise by just 300,000 cases by 2025.
"There is an incorrect assumption from many in the sector that retailers moving away from colony eggs will lead to a surge in demand for free-range. That is simply not the case, and this report confirms that," Gooch added.
"Our data from ADAS shows a break-even price of £1.01 per dozen, but our members are submitting prices through our [costings] portal which show that they are being paid significantly less than that – about 88p per dozen on average."
It comes weeks after BFREPA unveiled its new price comparison tool for producers, which was designed to inject greater transparency into the egg supply chain.
The new costings portal allows farmers to see how the price they get paid for their eggs compares with others across the UK, after warnings by BFREPA in recent years that egg producers were being short-changed by contracts.