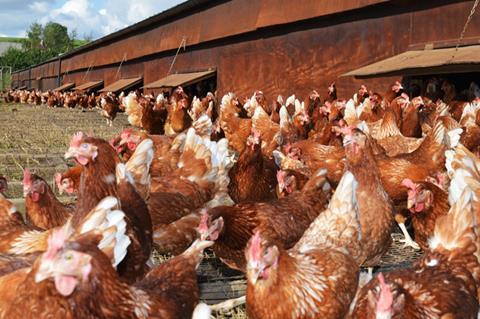 Rocketing feed costs and 'unsustainable' low prices are threatening the future of free range eggs, the British Free Range Egg Producers Association has warned.
Prices for key feed ingredients wheat and soya have rocketed in recent months, leaving some egg producers struggling to trade above the cost of production.
Defra figures show feed wheat grew 35% (£48.22) to £185.94 per tonne in December 2020, while soyabean meal rose 31% to £399.67 in December, up from £306 the previous year.
According to AHDB, these price increases have been fuelled by high demand on global markets from China, which is currently rebuilding its pig herd following the African Swine Fever epidemic.
The levy board added that this situation has been exacerbated by the UK's weather-affected wheat harvest in 2020 and challenges with drought in the key soy growing regions of Brazil – although the country's harvesting has thus far been disrupted by rainfall, with 0.9% of the crop harvested compared to 4.8% this time last year.
While BFREPA CEO Robert Gooch said some egg producers had been aided by feed tracker contracts and temporary price increases, the situation many faced was now a "serious concern". "It's important to note that while the egg price for free-range farmers has risen, it is still below what it was in 2013 (£1.01/dozen)," he said.
"Our independent data shows the cost of production at around £1/dozen, but the average price being paid is closer to 90p/dozen.
"For farmers to invest in their futures, secure a supply of high-quality British eggs, become more sustainable and continue to advance hen welfare, they need a more sustainable price."
It comes as BFREPA urged its members to follow bird flu guidelines or run the risk of the disease decimating the sector.
Gooch said he was "deeply concerned" by reports of poultry being seen outdoors. UK poultry is currently meant to remain indoors as part of a national housing order which came into force in December amid a spate of highly pathogenic avian influenza cases.
Concerns over pricing follow a boom in retail sales for eggs over the past 12 months. Volume sales grew by 18.4% (equivalent to 1.2 billion eggs) in 2020 [Kantar 52 w/e 27 Dec 20].
Chairman of the British Egg Industry Council, Andrew Joret, said the rise was down to consumer demand for healthy, quick and easy to cook meals during Covid-19 restrictions.